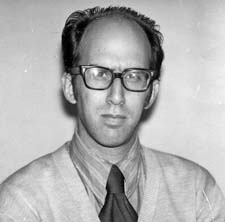 Richard Tropp

Photo Courtesy of California Historical Society,
MSP 3800
This handwritten unsigned note recovered in Jonestown describes the community in death in eloquent, almost poetic terms.
While at least one Jonestown researcher asserts that the handwriting on the unsigned note matches that of Marceline Jones – an assertion bolstered by the observation that the language suggests a female writer – most people who have examined it identify the author as Richard Tropp, an English teacher. Other samples of Tropp's handwriting located at the California Historical Society do seem to match this note, and no writing samples of Marceline Jones' writing have been made available to this website for comparison. Pending additional evidence, then, this website will refer to the letter as the "Tropp note."
The FBI recovered the note at Jonestown, although there is no indication where it was found. However, there are several references in the eight-page note scrawled in a small Guyana Exercise Book which suggest that Tropp wrote the letter at Jim Jones' cabin.
First of all, the choices of words throughout the note suggest the writer is not at the pavilion. In addition, the fact that the last line refers to "darkness" implies that most of the suicides were over. The best reconstruction of the events of 18 November would place Tropp with the other members of the leadership group, the identified members of which died in Jones' cabin. They were also the last to die, after all other decisions – such as who were deciding who would leave Jonestown with a briefcase of money to give to the Soviet Embassy in Georgetown – had been made.

Richard Tropp's last letter, November 18, 1978, RYMUR 89-4286-X-1-a-54