Learning About Jonestown
by Rachel Steele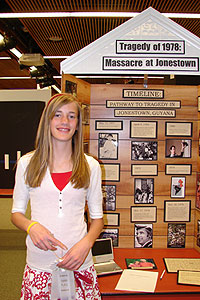 (Rachel Steele is an eighth-grade student in Utah. Her presentation, which she assembled as seventh-grader in early 2007, won third place in a field of 40 other exhibits. Her article is adapted from her paper which accompanied the exhibit.)
Before I decided to pick Jonestown to present for my junior high school history exhibit earlier this year, I had no clue what it was. I came to learn of Jonestown by walking in the room while my brother was watching a preview for the documentary/movie on Jonestown. I watched it with him, and became very interested.
Many people do not know about Jonestown. Whenever I told people what my topic was, they would ask, "What's that?" It reminded me of George Santayana words, so prominently displayed in Jonestown: "Those who cannot remember the past are condemned to repeat it."
When I began my research I read through some of the chapters of various books and searched online. One day, I found a wonderful website that I have used throughout my whole project. It had primary sources, recordings of sermons that I could read, and tapes of many other things. It had countless articles, useful pictures, links that went on forever and so forth. This website was set up by Rebecca Moore, who had two sisters that died in Jonestown. I also found several books, some of which she had written, at the Harold B. Lee Library at Brigham Young University. I also got the opportunity to interview Dr. Moore and her husband Fielding McGehee over the phone.
I chose to do an exhibit, because I like to be creative, and I enjoy doing that kind of thing. When I heard the choices for what our entries could be, I knew I would be doing an exhibit.
I wanted to make my exhibit look somewhat like the inside of a Jonestown house. it is constructed out of wood paneling. At first I had a little trouble figuring out how to cut the foam board straight, but that problem was resolved by using an Exacto knife and a metal ruler. I used Microsoft Word to print out all of my titles and headings.
I thought this topic fit interestingly into the theme of "Triumph or Tragedy" this year. People look at the event and say, "How could this have possibly been a triumph?" But if they took the time to view my exhibit, they'd learn that before the church drifted away from Christianity, it was a good thing. It helped a lot of people. I think it's important to realize that Peoples Temple and Jonestown itself are almost two separate things. Peoples Temple was very much a triumph, coming together in racial harmony in a time like that most definitely is an accomplishment. The tragedy is obviously the death of more than 900 people, but beyond that, it also seemed to represent the death of the ideals of the community itself. And if nothing else, I hope that people will get that message.
Originally posted on July 25th, 2013.
Last modified on December 3rd, 2013.