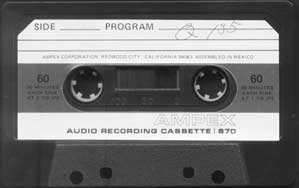 Much of the Peoples Temple story is in large collections of audiotapes which are available to researchers and the general public. The tapes offer an immediacy that other media do not: they include the voices of the people of Peoples Temple and Jonestown; they represent a contribution to the history of the Temple in its own words; they present events in their original form rather than forcing us to rely on faulty memories; and – most important – they remind us of the complexity of the Temple with its creative and destructive forces, its principled stands and its ethical lapses, its passion for life and (at least for some of its leaders) its passion for death.
The FBI link takes you to the collection of 971 audiotapes which the agency recovered from Jonestown after the deaths in the jungle community. The tapes were recorded by Peoples Temple itself, and includes sermons by Jim Jones, recorded telephone conversations and meetings of Temple members in the United States, and gatherings of the Jonestown community. The collection includes the death tape recorded on November 18, 1978, and a mysterious tape found on November 19, 1978. The tapes were reviewed for their potential evidentiary use in the prosecution of Larry Layton, and have been released to this website under the Freedom of Information Act.
An archived FCC link includes tapes which the Federal Communications Commisson collected in an effort to document Peoples Temple use – and possible misuse – of its ham radio license. These tapes of Temple radio communications were often made by ham operators and/or Temple critics in order to record license violations, and submitted to the FCC. This link also includes radio-related materials such as the scans of QSL cards sent by ham radio operators who made radio contact with Jonestown and subsequently exchanged cards, as well as scans of radio-related documents, letters, and news articles.
The Peoples Temple tape link includes transcripts of recordings which were made by the Temple and which were among the thousands of documents recovered by the FBI following the deaths in Jonestown.
The Miscellaneous Audiotapes link includes tapes and transcripts located in other government records or donated from private individuals and collections.
For articles and commentaries on Jonestown tapes, click here.
Originally posted on January 5th, 2013.
Last modified on October 22nd, 2021.