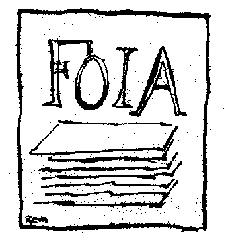 Many of the documents on this website – from the Jonestown censuses which provided the data for the Who Died? list to the Edith Roller journals, but most especially the documents in the Primary Sources section – came from files released under the Freedom of Information Act.
The following federal agencies have conducted probes into Peoples Temple and the Jonestown tragedy. As such, they have been the subjects of this site's greatest interest, and many records from the two agencies with the largest collections – the FBI and State Department – have been uploaded to the site. Records of the other agencies listed below are in the possession of the Jonestown Institute and will be added in the months to come.
Federal Bureau of Investigation
Department of State
Bureau of Alcohol, Tobacco and Firearms
Central Intelligence Agency
U.S. Customs Service
Department of Defense
Federal Communications Commission
Internal Revenue Service
On numerous occasions during the 25-year history of Peoples Temple – and more especially in the three years following the deaths in Jonestown – Peoples Temple was the subject of queries and investigations by various agencies of the federal government. Many of the documents generated through those probes appear across this site. The documents include records of the investigations themselves as well as the Temple's own records which were collected by the agencies – most notably the FBI – along the way.
The Freedom of Information Act, 5 USC 552 et seq., is a federal law which allows anyone to request these records, and with this law in hand, the managers of this site have filed scores of FOIA requests over the decades. While there are categories of information which the government may exempt from disclosure – such as records protected by national security and records the release of which would constitute an unwarranted invasion of privacy – most of the government's records on Peoples Temple and the Jonestown tragedy have been made available, through these requests.
Articles about the Freedom of Information Act on this site include:
Originally posted on February 17th, 2013.
Last modified on May 16th, 2022.