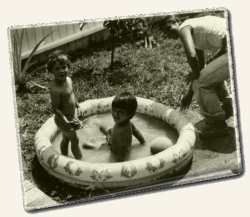 Peoples Temple maintained extensive records of its activities: from community censuses taken monthly in Jonestown, to collections of letters, photographs, tape recordings, and other group-generated materials. These primary sources reveal the internal workings of the movement, and show what members were thinking and feeling. They also display political and religious attitudes held by individuals and the group.
This page also includes writings by people affected by the Temple, including its critics in the Concerned Relatives organization and government officials, which are important in understanding the People Temple story. Beyond that, some documents such as the New West article in the San Francisco section and John Moore's sermon "A Witness to Tragedy and Resurrection" in the Aftermath section have achieved primary source status. Finally, there are numerous government documents from both state and federal agencies.
Many of the files on this page come from Peoples Temple records which were recovered by the FBI and released to this website as a result of a lawsuit filed under the Freedom of Information Act. The complete listing of files may be found at the Freedom of Information Act link (also number 8 below).
The Primary Source documents have been divided according to Peoples Temple's most significant periods and locations.
Other primary sources appear under Tapes or Gallery. In addition, a site launched by Brian Csuk in 1998 and archived at the Internet's Wayback Machine includes the text of many primary source documents from the U.S. Department of State, including some duplication of documents found in this section.
The editors of this website are deeply grateful for the invaluable assistance of Don Beck, who provided many of the document scans for this section, and of Rikke Wettendorff, who transcribed many of the scans into searchable text.
Originally posted on February 18th, 2013.
Last modified on August 4th, 2022.