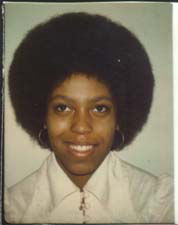 I first met Rhonda Denise Wright at St. John's Episcopal Church at 514 West Adams Blvd. in Los Angeles. It was a brief encounter – more in passing – but what caught my attention were her big eyes and her slightly bowed legs. Plus, she did have a nice formed backside.
I made my way back to the church again and again, until I finally asked my mother if I could  become a member. She gave me her blessing, and so I joined. There were around 15 to 20 young people about the same age at St. John's, and since the church didn't have anything like a youth group, we all got together and formed one. We called ourselves, "Images of the Future."
One of the many trips that the group took was to Lake Arrowhead in a large rented house. There was snow everywhere, which most of us were not familiar with. We stayed out in the elements longer that we should  have and came back with frostbite. But my strongest memory of the trip was walking behind Rhonda along a roadside back up to our house, when a snowplow came around the bend towards us. As it neared, I could see it wasn't slowing down, so I grabbed Rhonda by her left arm, and we rolled down the short slope and out of danger. Rhonda fussed because she was covered with snow from head to foot – especially her head, which distressed her – but as she saw the plow go on down the road, and she realized what I had done, I suddenly became a hero to her.
After the snow trip, we began to talk on the phone, and to date. I liked the fact that Rhonda was always interested in helping other people in some form or another. She would always speak out about injustice, even in her home. Sometimes, I would have to calm her down. We talked about everything, including subjects that nagged at her, like her blood father, who had been divorced from her mother since Rhonda was one or two. It was a sore spot in life. Our outings included going to the museum or to the park and spending time with the youth group at church. I took her to her prom because I had already graduated from high school.
During our short relationship/courtship we found out that Johnnie and Sam Mathis, her mother and stepdad, had taken a liking to me. More and more we thought that we really loved one another.
Rhonda and I began to make plans to get married. I could see that she was very mature in wanting to be married, and was impressed because I did not know of any other women my age who wanted that.
Just a few months after we got married, Rhonda and I were faced with a great "distraction": Peoples Temple. Under the leadership of Jim Jones, the Temple was doing amazing work for the communities they were in, far and away beyond what St. John's had been doing, so we made plans to jump ship together and go to the Temple.
I believe that Rhonda would have been a counselor to many of the people, because she was always helping others solve their problems. She was always a very hard worker, driving older people to the Social Security office for appointments. On many occasions we had helped people move from one location to another, even taking them to northern California. We took one weekend to wash the buses that came down from the San Francisco Temple for service in the L.A. church. Wherever we could help, we were johnny on the spot.
Little did Rhonda and I know that the more we would volunteer to help out, it set us up to become Counselors. Several months later, we were both called to be part of the Planning Commission (PC), the "inner circle." Rhonda attended as we were instructed, but she didn't get so involved with the "who slept with who," or who did not finish his or hers assignment. I remember the only time she spoke up to say something in that meeting was to answer a question asked directly to her.
Three years into our marriage, she became pregnant. The news that we were going to have a baby filled her with excitement. She was ready. I remember when our son was born, she had a look on her face of completing a great assignment in life. We named him Hue Ishi Fortson. The grandparents on both sides of the family were all excited with the new arrival as well, all except for her natural father. Rhonda was disappointed that he had not shared the same excitement for whatever reason. She began to pour everything  into our baby's little life, as if she now had another outlet besides the Temple, because she did. Her other bond was with her mother. As much as she could get away from the Temple life, she would visit her parents in Los Angeles.
During the years of working in the Temple, Rhonda and I did not get to really know one another as we should have, because we were always being called upon to do something for the church. We didn't even discuss many of the things that were going on in the Temple.
At one point, we were offered an opportunity to manage a HUD apartment building down the alleyway from the Temple. About two years later, we were offered to manage the building right next to the Temple. And then, in October 1977, we were asked if we would be willing to go to the Agricultural Project in Guyana. Rhonda was a lot braver than I was in that she was willing to go and to take Ishi with her.
The initial plan as it was laid out in a few of our PC meetings was that after a short time, I was to be flown down to the project. However, my time of departure was six months later – in April 1978 – and by that time I had gotten into to an unhealthy sexual relationship with another woman in the Bay Area. At one point I called to confess to Rhonda via shortwave radio, and I know for a fact that my relationship with Rhonda was broken. It didn't matter that I had repented and asked for forgiveness, she was never the same with me, even when I went down in Jonestown. And I cannot blame her, because her biological father had done the similar act to her mother. By the time I was flown back to the United States as a personal bodyguard to Jones' wife Marceline, Rhonda and I had not really had time to ourselves to talk about my mistake. I regret that I did not even get a chance to tell her, that if anything was to go cockeyed, to run like hell into the jungle with Ishi!
Rhonda was a caring woman and wonderful mother to our son. I carry that in my soul forever.
(Hue Fortson was the Associate Pastor of Peoples Temple in Los Angeles at the time of the deaths in Guyana. His wife Rhonda and his son Hue Ishi died on November 18th. His other article in this edition of the jonestown report is Losing Anger. His complete collection of writings for this website be found here. He may be reached at afather88@gmail.com.)
Originally posted on January 2nd, 2021.
Last modified on October 11th, 2021.