[Editor's note: This article originally appeared in Rolling Stone Magazine on November 16, 2018.]
In the wake of the mass suicide in 1978, friends, family and survivors had to face the heartbreaking aftermath of Jim Jones' cult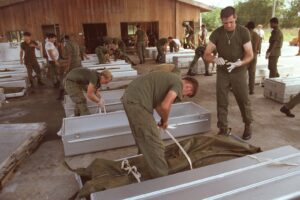 Roughly 900 corpses lay before the Guyanese state pathologist Dr. Leslie Mootoo, one of the first on the scene at Jonestown. Arrayed in strangely uniform rows on the ground, the bodies were rapidly decomposing, thanks to tropical heat, a rainstorm and swarms of animals and insects. Some were so lost to putrefaction that the U.S. military clean-up crew used snow shovels to pick them up, and wore facemasks to block the stench.
"Mootoo was called to a scene for which there was absolutely no precedent. They were completely overwhelmed with the crime scene they found. There was an urgency to process the bodies contaminated by a rainstorm and then rotting in the sun. Everyone was in a state of panic," says Fielding McGehee, who was with his now-wife Rebecca Moore when the news broke. Moore lost two sisters — Annie Moore and Carolyn Layton — and a four-year-old nephew Kimo, who was Carolyn and Jim Jones's son — to Jonestown.
On November 18, 1978, over 900 members of the Peoples Temple died in what appeared to be a mass suicide, drinking Flavor-Aid laced with cyanide and other drugs. Followers of religious cult leader Jim Jones, they had carved Jonestown out of the jungle in Guyana to build a community they considered a utopia. Others died that day in two related episodes. Sharon Amos, who was at the Peoples Temple headquarters in Guyana's capital, Georgetown, roughly 150 miles away, responded to Jones's radio call to kill themselves along with those at the settlement. She obeyed Jones, entering the bathroom with a knife to kill two of her children, Christa and Martin Amos. She slit her own throat, as did her 21-year-old daughter Liane. Another Peoples Temple member, a Marine veteran named Chuck Beikman, was left standing on the blood-covered floor, knife in hand, with 9-year-old Stephanie Morgan, who had several knife wounds on her throat but survived. Beikman was arrested and served five years in a Guyanese prison.
At the Port Kaituma Air Strip several miles from the settlement, Congressman Leo Ryan was helping defecting members of the Peoples Temple board one of two planes leaving Guyana. He and current Congresswoman Jackie Speier, then 28, had traveled to the country, responding to reports of people held in Jonestown against their will forwarded from a group called the "Concerned Relatives." As they waited to depart, a tractor from the settlement arrived towing a trailer filled with armed gunmen. Ryan, three newsmen and one Jonestown resident were killed, while nine others were injured. Speier was shot five times and crawled behind a wheel of the plane, waiting 22 hours for rescue.
Jim Jones had created a controversial empire. Despite working to racially integrate Indianapolis, where his ministry began, Jones kept a mostly-white leadership over his 70-percent African-American congregation. He sexually abused members and performed fake "healings" with chicken entrails. Yet he was dedicated to fair healthcare for the elderly and at-risk youth, establishing many residential care homes with his wife Marceline, a nurse. He took his followers to Guyana in part because he felt it was the best place to survive a nuclear apocalypse, and in part because a magazine exposé of his mistreatment of Peoples Temple members was about to be published. In Jonestown, his drug addiction and paranoia deepened. Congressman Ryan's visit seems to have triggered Jones's push for the community to commit "revolutionary suicide."
That first night, Dr. Mootoo slept on the ground 50 yards away from corpses. He soon learned that not all of the poison drinkers had been willing. Babies and children had been dosed by mouth syringe, and some adults exhibited puncture marks between their shoulder blades or on the back of their arms — places a person could not reach for a suicidal injection. Photos of the aftermath clearly show abandoned hypodermic syringes. Two people died from gunshot — but perhaps not from the same weapon — Annie Moore, who was Jim Jones's nurse, and Jones himself.
For four or five days, it wasn't even clear how many people had died. Those working to move the bodies would often find another layer of corpses underneath. Some of the handwritten cardboard tags identifying people, tied to their wrists, became illegible from rain. Although the U.S. government originally intended to bury the bodies in a mass grave in Guyana, "the Guyanese government wanted to get the bodies the heck out of there," says Rebecca Moore. "It was an American problem dumped in their laps."
Most of the Peoples Temple members came from Northern California. The nearby Oakland Air Force Base — which had processed 50,000 bodies from the Vietnam War — would have been the common-sense choice to unite mourners and their dead. Moore recalls officials saying they didn't want to be "besieged by relatives" and instead flew the bodies to Dover, Delaware.
Jones's message of Socialist equality meant that many of his followers were from humble socioeconomic backgrounds. The cost of traveling to the East Coast to retrieve a loved one — or several — proved prohibitive to many families. Moreover, "People were worried the government would come after them for the cost of bringing the bodies back from Guyana," says Buck Kamphausen, owner of Evergreen Cemetery in Oakland, California. "There was a lot of bad information."
Bereaved family members retrieved a little over half the victims. Kamphausen suggested his burial ground in the Oakland hills would take the 410 unclaimed bodies: "Evergreen was sitting in a black neighborhood, an old cemetery without much business in a deteriorated area. We saw that there was more to this story than meets the eye. We could improve the cemetery and provide services to people being discriminated against for being in a cult."
A few other cemeteries volunteered, but it was a fraught offer. "There were rumors that there were hit squads that Jim Jones had put together," says Kamphausen, "and that there would be a cult following in the cemetery. People were afraid." Moving vans brought the bodies cross-country to California.
Kamphausen had seen a trade magazine spread about how another cemetery had handled the influx of bodies from the 1977 Tenerife airplane disaster, which killed 583 people, and realized that using a hilly portion of land would permit him to "stair-step" the coffins. "We used a backhoe and premeasured the hole so we could get box on top of box at a double-depth," he says. "We could do 48 at a time, get the vault ready and then the caskets." The first 160 bodies were unidentifiable, he says, "everything from babies up to 18 year olds," because at their young age they had no fingerprints or dental records on file. A third of the Jonestown victims were children.
In the years following this effort, roughly 20 more people were buried as close to the mass grave as close as possible. Of those, Kamphausen says five to seven are full bodies and the rest are cremains. They cannot be buried in the same plot because there is simply no more room. As recently as 2014, nine cremated Jonestown bodies were discovered at a defunct Delaware funeral home; four were claimed for private burial and the rest interred at Evergreen.
The bodies were in place, but nameless. The Guyana Emergency Relief Committee, formed by interfaith leaders in the San Francisco Bay Area, placed a simple gravestone at Evergreen in 1979. It and a similar stone at the Jonestown site read, "In memory of the victims of the Jonestown tragedy." The catch-all phrase "victims" failed to provide dignity and closure for family members who wanted to see their loved ones named individually. Planning began for a monument listing each person's name.
Fundraising for such a memorial stalled over the decades. Jynona Norwood, a preacher who has claimed she lost 27 family members to Jonestown, solicited donations at the annual anniversary services at Evergreen. She raised enough money for two stones, and unveiled them in 2008. Made of glossy black granite, the monuments listed a sampling of victims' names and ages, one name per line. In order to capture all the adult names, she planned to erect another four slabs, as well as a red granite central stone to list the 305 children.
The plan for these monuments, though, was flawed in vital ways. Given Norwood's fundraising rates, it would have taken another 70 years to get the remaining stones made. More importantly, the Evergreen site could not support the weight of the upright slabs, which would require six feet of stabilizing foundation to be poured. "There's essentially a sprinkling of grass atop the graves," says McGehee. "So you can't dig very far down before you run into graves." Only plaques laid flat on the ground would work, and thus Norwood's monuments could not be placed. (Norwood did not respond to multiple requests for comment.)
In 2010, the Jonestown Memorial Fund, a three-person committee including McGehee and two Jonestown survivors — Jim Jones, Jr. and John Cobb — announced that it was fundraising for a memorial. Within three weeks, the committee had raised the necessary $15,000 for four flat plaques.
On May 29, 2011, a service was held to dedicate the memorial. Some people objected to Jim Jones' name being included on the memorial. In partial concession to these concerns, he was formalized as James Warren Jones. The alphabetized order lists his name last on his particular stone.
At the dedication, Rev. Moore, father to Rebecca, Annie and Carolyn, gave an opening blessing. Wreaths were laid and those in attendance were invited to come to the front and give remembrances. Rev. Hue Fortson, the associate pastor of the Peoples Temple in L.A. who had been in the U.S. on that fateful day in 1978 but lost his wife and son in Guyana, closed the service with a benediction. "Standing there listening to people speaking about their losses in Jonestown, I experienced a strange sensation," says Ken Risling, a friend of Annie Moore. "It was the feeling of belonging. Out among normal people, even my own family, I hadn't really noticed the loneliness riding in the sidecar of my grief. I wept with relief."
The closure brought by the laying of the stones was marred by the lawsuit Norwood filed the day after their placement. Norwood objected to Jim Jones's name being incorporated into the plaques. On her website and in multiple news interviews, she has said that including him is tantamount to putting Hitler's name on a Holocaust memorial. Rebecca Moore and the members of the Jonestown Memorial Fund think of the stone as a historical document; it lists everyone who died in Guyana on November 18, 1978.
"If we exclude Jim Jones from that marker, maybe we should consider excluding the people who assassinated Leo Ryan," says Moore. "Then maybe we should exclude people who were complicit in murdering their children. Maybe we should exclude all the adults who did not overturn the vat of poison." (The lawsuit was dismissed in 2014, and Norwood's appeal was rejected in 2015)
Why didn't parents protect their children? No one can say. At Jonestown, nuclear families didn't live together. Children slept in their own bunkhouse and babies spent the day together in a nursery. As heard in a partial audio recording from that day, Jones's lover Maria Katsaris came to the microphone to reassure parents about their children's reactions. "They're not crying from pain. It's just a little bitter tasting," she said. However, Dr. Mootoo said in the December 1978 inquest that, "A lethal dose of cyanide could kill a child in five minutes and a baby less. From what I saw most person [sic] died between twenty and thirty minutes after taking lethal dose of Cyanide poison (This is drinking [rather than being dosed by hypodermic syringe])."
Ever since the Temple's early days in Redwood Valley, California, Jones had been enacting "White Nights," mass-suicide test runs of drinking beverages falsely claimed to be poison to confirm his congregation's loyalty.
In the aftermath of an event that caught the world's attention, mourners were often loath to explain losing family members to Jonestown. Their personal tragedy became a morbid joke: "Don't drink the Kool-Aid."
"It's kind of the embarrassing question, 'Do you have any brothers or sisters?' and I have to go through my mind and say, 'Well, do I say yes?'" says Moore. "Can you imagine what a terrible burden that would be to have such a stigmatized death that you couldn't even talk about your loved one because then you'd have to go into the big explanation about Jonestown and 'Why were they fanatics? Were they brainwashed?'"
Some emphatically assert that the victims had been manipulated. "Jim Jones is among the most evil leaders of all times; he made his worshippers love him unconditionally, then ordered them all to die for him, which is brainwashing at its most extreme," says Philip Zimbardo in an email. He's the originator of the Stanford Prison Experiment — in which college students cast in the role of prison guards became sadistic to fellow students who were "prisoners," to the degree that the experiment was canceled after only six days — which predated Jonestown by seven years. He has taken an interest in the Guyana tragedy's elements of mind control and brainwashing, the latter a term Rebecca Moore objects to.
"People were caught up in [Jones's] pathology, but I deny that people were robots, brainwashed or drugged," Moore says. She and her husband Fielding McGehee started the academic website Alternative Considerations of Jonestown and the Peoples Temple in 1999. It's hosted by San Diego State University where she used to be a professor in the Department of Religious Studies. She's made it her life's work to archive everything related to Jonestown, and since 2003, McGehee has managed the site full-time. The two met at journalism school at Antioch College in Washington, D.C., where they were living when the news from Jonestown hit the U.S.
The website catalogs everything from autopsy reports and her sister Annie's open letter to those who would come across the bodies, to remembrances from survivors and families. Moore says daily requests for information come through the site. It even hosts the archives of a website that directly opposed her and the Jonestown Memorial Fund, called the Jonestown Apologist Alert.
"We don't agree with probably the majority of stuff on the site," she says, "but we see it as our task to collect all the materials that are out there."
Annie and Carolyn were cremated and buried in a family plot in Davis, California. "Kimo is presumably at Evergreen," Moore says. He was one of those children who could not be identified. His birth name, Jim Jon, is also carved on his mother's stone as if he lies below with her.
"I don't like to use words like healing and closure and all that," says Moore. "The language I prefer to use is, we have incorporated those losses into our lives. The dead are part of our lives; they are part of who we are, forever."
She adds, "I don't want Jim Jones to have a double victory by making me angry over something I have no control over."
Forty years later, the community of grievers still gather on the anniversary, with varying reactions to the bewildering tragedy. Some even long for Jonestown — Ken Risling remembers hearing a survivor once say, "I was there, and I'm not happy to be here."
"People were not allowed to grieve because of the terrible nature of the deaths, and to bring it full circle, that's why the memorial is so important," says Moore.
A new stone placed this year in front of the four plaques commemorates the 2011 dedication and in part thanks Evergreen Cemetery. Buck Kamphausen, the cemetery owner who donated landscaping and accepted the unclaimed bodies 40 years ago, says, "You could see the dramatic change and profound release of emotions when people finally did come to the cemetery and face things."
Originally posted on January 7th, 2023.
Last modified on January 12th, 2023.