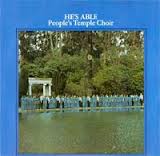 "Songs Primarily in the Key of Life," Brian Kevin's work on the Peoples Temple record album He's Able, was his MFA thesis in creative nonfiction at the University of Montana. It was also published by the Colorado Review (Vol. 37, No. 2, Summer 2010, 68-101) and was later selected as one of the year's Notable Essays in Best American Essays 2011. Brian may be reached at brikevin@gmail.com.
A special section on the He's Able album from the 2009 edition of the jonestown report appears here. The music of He's Able may be found online here, listed by song title in the third paragraph. He's Able may be played in its entirety through a YouTube link, which opens to the album's first song, "Welcome," and which continues by using the "Autoplay" function above the song titles, in the upper right hand corner of the panel.
Originally posted on March 11th, 2013.
Last modified on July 28th, 2021.