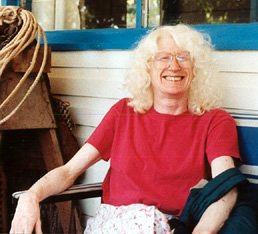 (Michael Haag lives and works in Northern California. His complete collection of writings for the jonestown report may be found here. He can be reached at: mhaag45@yahoo.com.)
I met Patti Chastain on a warm spring day in 1983 on the front steps of her home in Berkeley, California. A matchmaker who thought we probably would like each other had introduced us. At first Patti's sunny disposition, her frequent smile and her irrepressible optimism seemed Pollyannaish to me. At that time I was a too serious 35-year old bent on becoming a psychologist. Only later did I come to appreciate Patti's positive outlook on the world, her capacity to endure tough times and her ability to come out a winner.
Patti, of course, was a Peoples Temple survivor, although it was some time before she was comfortable enough to tell me that. Even four years after Jonestown, Patti was reluctant to talk about her past. She still half-believed that government agents were out there working to silence those who spoke out about the Temple. As we talked about Peoples Temple, what emerged was a picture of remarkable people and remarkable lives. I knew little beyond the headlines and lurid news accounts I had read in 1978 of the Jonestown "cult" and mass suicide in the jungle of Guyana. What I learned was another story entirely.
Those who joined Peoples Temple in the 1960s and '70s were not, as the media later portrayed them, crazed cultists bent on evil and deadly destruction. Instead they were a diverse group of highly idealistic, hard-working folks committed to racial equality, social justice, community and a better life than mainstream America had been offering them. These were good people, extraordinary people. They had chosen to act on their beliefs by joining a community and a leader who promised to create a more just, equitable and better world for everyone, not just the privileged few. The people of Peoples Temple were risk-takers who committed themselves body and soul to what they believed in and what they were led to believe could be obtained through their collective efforts.
The story of Jonestown – the story of its rise and fall, and the ultimate betrayal and death of so many of its good people – is one of history's great tragedies. Though it may be unpopular to say so, I believe that Jim Jones was himself very much a victim of Jonestown. Jim began as a good man who was undone by the position and power he so successfully created for himself and by the isolation he sought and achieved in Guyana. This is not to excuse Jim for what he did, only to assert that he was not always the embodiment of evil that he has since come to be seen as.
Amazingly, Patti seemed not to bear ill will towards Jim for what he did. Patti was one of the lucky ones. Left behind in San Francisco to work in the Temple there, she was far away from Jonestown on that fateful day – now almost 25 years ago – when more than nine hundred of her friends perished. After Jonestown, Patti suffered from suicidal impulses, depression and a deep abiding grief. Slowly she healed her spirit and began to put her life back together again.
When Patti and I fell in love and decided to marry, it was not what she had expected to happen. Patti told me she had thought no one would ever want to marry her. She was, after all, a skinny albino girl with pure white hair and white skin who was legally blind.
Patti grew up in Santa Monica, California, a beach town. But she couldn't lie on the beach for hours getting a tan with her schoolmates. If she went to the beach, Patti had to wear clothes that completely covered her arms and legs to protect her from severe sunburn (albinos have no pigment in their skin and thus do not tan). Patti was never popular, but Patti and I clicked. We recognized in each other a fellow traveler. We fell in love quickly, and we were married in a year and a half after we met. I felt truly happy with Patti. I had had many girlfriends and been married before, but Patti made me happy as no one else ever had done.
When Patti fell ill in 1987 we thought it was minor and would pass. She was 40 years old, too young, we thought, to have any real health problems. But the sniffles and the runny nose would not go away. We began to consult doctors to see what was the matter. We never imagined Patti had AIDS, but that was the verdict when her tests came back – HIV positive. I was tested and found to be negative. Where did the AIDS come from? A mystery. Patti conjectured about the origin of her illness, but she never really nailed it down. It didn't matter. What was important was the time we had left together and what we might do with it. In those years AIDS was a death sentence. There were drugs to prolong life, but eventually everyone died. It was just a matter of when.
We talked about that, and decided we would work less and be together more. We began to travel. A rafting trip down the Colorado River through the Grand Canyon was first. Patti was too weak to hike the canyon, but she could navigate its river rapids in a raft with a group of several other people and an expert guide. We loved the quiet majesty of the Grand Canyon, and we enjoyed the camaraderie around the campfire at night. We sang songs, listened to the sounds of the river and looked up at the high steep vertical walls of the canyon with the moon and stars above. For the first time in her life, Patti was able to see a shooting star fly across the sky.
The next year we decided to go to Switzerland and Italy. Our bags were lost by the airline in New York, but they were returned to us the following day in a taxi from the airport. Then the adventure began. We rented a car and drove from Zurich to the Swiss Alps. We saw people floating above us in hot air balloons. We hiked in the high mountains on the border with Italy. We stayed in lovely little hotels on quiet lakes and had breakfast in bed. We visited Venice, Sienna, and Florence, and we went to all the great art museums.
As the months passed, we worried that Patti's time was short and we expected the worst to happen. However, Patti remained well enough for us to travel and to lead a relatively normal life. From 1987 onward Patti and I lived fast. I worked in my counseling practice, we traveled often (Paris, Nice, Costa Rica, New Zealand, the Mayan ruins of Mexico and elsewhere), and Patti began to paint. She found a teacher. Patti the fine artist emerged.
This was the calling that Patti had always felt but never heeded. She loved to paint. Her work was impressionistic, non-representational, extravagantly colorful and full of emotion. She drew on experiences and images from our travels and life experiences. Patti produced over eighty paintings during these years. She organized several art shows and sold many of her paintings. The paintings went out into the world, taken by friends, family and those who knew her.
Patti died from complications of AIDS on February 5, 1995 at 48 years of age. She was not afraid of death. She struggled and died bravely and well. She regretted only that she was forced to leave this world too soon. Patti was a deeply spiritual person. She believed that she would go on to another and better place after her death. Her instructions to me were to carry on and to find happiness again in my life after she was gone.
I continue to follow Patti's example, and to live my life fully and well.
Originally posted on March 9th, 2013.
Last modified on January 8th, 2021.