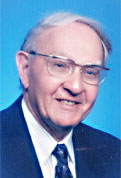 Passed away on September 10, 2004, at age 82. Mr. Holsinger attended the University of Pittsburgh for 2-1/2 years before serving for four years in WWII as an enlisted man and officer. He returned to school and graduated from UC Santa Barbara. Mr. Holsinger worked for Dunn Properties in Orange County (1971-73) and for over 20 years served as president of Holsinger, Inc. in Burlingame. He served as Congressman Leo Ryan's administrative assistant in the Washington, D.C., and San Mateo offices (1975-78) and as Deputy Superintendent for Governmental Policy for the Calif. Dept. of Education (1983-94). Mr. Holsinger was a member of the First Presbyterian Church of Roseville. He served on the Northern Calif. chair of the Democratic Party (1968-70) and the Northern Calif. chair of the presidential primary campaigns of Eugene McCarthy (1968) and Jimmy Carter (1976) and was a founding member of the California chapter of Americans for Democratic Action. His hobbies and interests included reading, politics, walking and spending time with his family. She is survived by his wife, Judith Holsinger, of Citrus Heights; sons Michael, Thomas, William and Matthew; stepsons Steve and Greg Hawkins; parents Virgil and Bessie Wright Holsinger; sisters Ann Freeman, Katie Taber and Jane Poynter; 13 grandchildren; Denese Holsinger, Candy Holsinger, Peg Holsinger, Pat Cox, Jackie Willson, Mary Jane Holsinger, Bernadette Hawkins, Christina Hawkins and Andrea Cannon Grommet. Services will be held at First Presbyterian Church of Roseville on Sept. 17 at 11:00 AM. In lieu of flowers contributions to Sutter VNA and Hospice.
Published in The Sacramento Bee on 9/15/2004.
Originally posted on March 9th, 2013.
Last modified on November 5th, 2013.