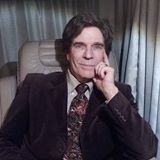 David Parker Wise was a Pastor of the Los Angeles branch of Peoples Temple. He also managed the Jonestown Legacy website. Mr. Wise was most recently interviewed in November 2019 for the Military Response to Jonestown website. His email address is hopetek@gmail.com.
Peoples in the Temple knew him as "David Wise," since that was his adopted name. In more recent years, he has returned to Parker, the surname of his birth-father.
Also in recent years, Mr. Wise has become active with the Free Energy Party, which seeks to "usher… in a world of: Free Energy, Cures for Diseases, and Organic Agriculture." A video of Mr. Wise describing its work appears here.
Originally posted on March 9th, 2013.
Last modified on May 12th, 2020.