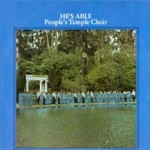 The following listing is of other tapes and audio files – or in some cases, only the transcripts of long-since lost tapes – from sources other than through the government and Peoples Temple itself. The tapes are arranged chronologically below, with source information added.
• "Faith Without Works Is Dead," the abridgment of a Jim Jones sermon from 1956 was printed in The Herald of Faith, a publication of Joseph Mattsson-Boze.

• The music of He's Able (1973), the album recorded by the Peoples Temple choir, may be found online here, listed by song title in the third paragraph. Articles and reflections upon the creation of the album, originally published in the jonestown report, appear here.

• "Allegory (1974), The Prophetic Text That Preceded the Tragedy," by Laurie Efrein Kahalas.

• "Guyana: How It Was," a radio documentary on the Jonestown deaths by Tony Russomanno (November 25, 1978)

• The Margaret Singer Tapes, a collection of tapes recorded by the Human Freedom Center and the Concerned Relatives.

• "A Witness to Tragedy and Resurrection," sermon preached by John V Moore in Reno, Nevada (November 26, 1978)

• "Dr. Peter David Beter Audio Letter No. 40," the presentation of one of the first conspiracy theories regarding the deaths in Jonestown (November 30, 1978). It asserts, among other claims, that "Congressman Ryan had been deliberately sacrificed in order to launch a covert military operation in Guyana," that "[t]he psychological profile of the leader, Jim Jones, indicated that he could be converted into a powerful tool of our Unseen Rulers," and that those who refused to drink the poison in Jonestown "were herded off into the jungle and shot without mercy."
Audio
Transcript

• Mae Brussell, whose political awakening occurred with the JFK assassination and who then took to the radio airwaves for 17 years on a "selfless, nonstop journey of political and history research," discussed Jim Jones and Peoples Temple on at least two occasions. In a broadcast from August 1977, according to her website, "Mae discussed Jim Jones and the Peoples Temple move to Guyana. She speculated it might be a training camp for assassination teams – this was more than a year before 913 members of the church were massacred." A transcript of this broadcast does not appear on her site.

In the aftermath of Jonestown, however, Ms. Brussell recorded three hour-long radio programs in consecutive weeks with her analysis of the deaths and her beliefs that "Jonestown was a CIA Mind Control Experiment."  The recordings were made on:

December 1, 1978, listed in her directory as covering "Jonestown, Guyana. Mind Control, UCLA, CIA. Government Experiments." There is a transcript, a Youtube recording, and what she described as a bibliography sheet for this recording;
December 8, which discusses "Guyana, Jim Jones federal agent? Outline to study for future information about Jonestown. Defense Department, conspiracies." There is no transcript, but there is a Youtube recording, and a second bibliography; and
December 15, the subjects of which were "Guyana, Dr. Lawrence Layton, Lisa Philip Layton, Dan Philip. Where is George Phillip Blakey? Who set up Jonestown? All White Men? White women with funds. Occupations? Past, present?" There is neither a transcript nor a bibliography of this program, but there is a Youtube recording.

• "Father Cares: The Last of Jonestown," a 1981 radio documentary, available at:

A 2015 reflection by NPR producers and staff who worked on "Father Cares" appears here. The link also includes the program in streaming in download formats.

• A 90-minute radio documentary produced by the College of Musical Knowledge for the public radio station at the University of Vermont on November 16, 1988, a few days before the 10th anniversary, appears here, It consists of an acoustic creation based upon news reports, radio broadcasts, tapes of Jim Jones, movies and reenactments.
Originally posted on September 8th, 2013.
Last modified on April 19th, 2023.