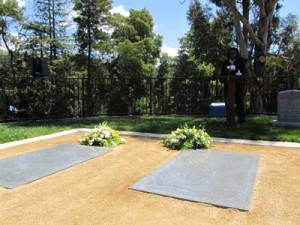 There will be two memorial gatherings for everyone who died in Guyana at Evergreen Cemetery on Friday, November 18, 2011. The cemetery is located at 6450 Camden Avenue, Oakland, California.
The first will begin at 11 A.M. Pastor Jynona Norwood will preside. For more information, contact Pastor Norwood at drnorwood@jones-town.org, or call (310) 419-3930.
A second, separate gathering and time of remembrance – sponsored by the Jonestown Memorial Fund – is at 3 P.M. There will be transportation from BART to Evergreen for the second service for anyone who needs it.
Following the second memorial, friends, relatives and former members are invited to a gathering at the home of Jordan Vilchez, 940 Ventura Street in Richmond. She can be reached at jordanvilchez@gmail.com.
Originally posted on July 25th, 2013.
Last modified on October 22nd, 2013.