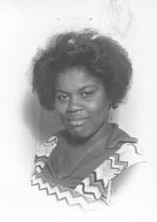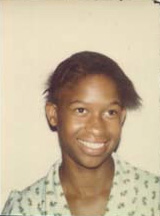 Toni James, my sister Darlene Ramey and I were just kids who loved to dance. Friday night dances at the San Francisco Temple were a teenage girl's dream. Lights down low, good music, and boys, boys, boys. Boys that loved to dance. We danced, we laughed. We giggled at the spastic ones, amazed by their bravery to be so open with their rhythm deficiencies. We envied the proficient ones, marveling at their skill, wishing we had it that good.
We enjoyed moments of stolen youthful pleasures: a kiss in the dark, a squeezing of a sweaty hand, whispers of short-lived devotions. We were showing off a new outfit, a new pair of shoes, careful not to muss a new hairdo or sweat a 'Fro out of shape.
We'd waited all month for this night, anticipating the deluge of camaraderie. We reveled in Soul Train lines, begged for Barry White slow ballads. Another chance to hold someone close thirty or forty seconds before one of the counselors yelled at you to break it up. Whenever Los Angeles, San Francisco, Redwood Valley, and Fresno got together, it became a 'thang. Not a Los Angeles 'thang, or a San Francisco or Valley 'thang, it was just a 'thang. L. A. girls with Frisco guys, Valley girls with L. A. boys. We'd probably have beef later on about it, but at the dance we celebrated our youth and had fun.
It was a scarce treat. We could cut up all we wanted to and not get bugged about it. It was a rare, safe place to be in the church. Perhaps no one realized how fun and exciting it was, or maybe just once someone actually sympathized with our youthfulness. Youthfulness expressed through unbridled energy.
We didn't have the usual stoic chaperones. We had Francine Mason, and Violet Jones, and John Brown, and CJ. Adults who weren't bothered with or embarrassed by our youthfulness. Friday nights were the nights to exchange the church's politics for a night of fun on the dance floor.
We were kids trying to grasp a brief moment in time, a time to enjoy who we were. We were just kids who loved to dance.
(Glenda Randolph Bates was the sister of Darlene Ramey, who died in Jonestown. She had a Doctorate in Theology, and passionately preached the gospel of Jesus Christ. Glenda was also a board certified lactation consultant. Her numerous articles for this site appear here. She died on March 29, 2022 from pancreatic cancer.)
Originally posted on July 25th, 2013.
Last modified on April 14th, 2022.