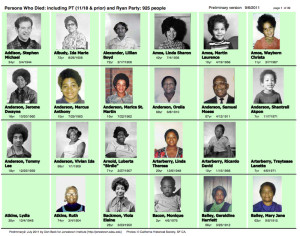 A file of the ID photos for those who died in Guyana has been added to the Jonestown website. The names listed on the photos are the same as those listed on the stones at Evergreen Cemetery. This format – a collection of the ID photos – was developed as a resource for quick and easy access to all the photos in one place, whether you are looking for a single person or a general impression of the population of Jonestown.
We are still missing photographs for about 50 people, but work continues on gathering them. If you have any photos at all of those not pictured – including family snapshots – please share them with us so we can assemble a complete set.
This file is also available on the Who Died list.
(Don Beck, a member of Peoples Temple living in Redwood Valley in November 1978, was part of the group on the original trip to Guyana, and for summers of 1974 and 1976 as Jonestown was being built. He was a regular contributor to the jonestown report until his death in 2021. His other articles in this edition are A Day of Remembrances, Talking with Cults: Conversations with a Video Director, Liane: The Teacher and Remembrances of Temple Kindergarteners. His earlier writings appear here.)
Originally posted on July 25th, 2013.
Last modified on December 26th, 2022.