• More than 32 years after he was arrested in connection with the attack on the congressional party at the Port Kaituma airstrip – and almost nine years after being released on parole – Larry Layton is finally a free man. In March 2011, the Parole Commission terminated supervision of Larry and closed his case.
• Jakari Wilson – the son of Leslie and Joe Wilson, and the youngest survivor of the Jonestown tragedy – was convicted in August 2011 on two counts of premeditated attempted murder. A Sacramento County jury also found Wilson guilty of intentional discharge of a firearm causing great bodily injury.
Wilson had been convicted on two prior felony aggravated assaults in 1994 in Georgia. Because of the previous convictions, he faces a prison sentence of up to 110 years when he is sentenced later this fall.
The conviction stems from an incident in October 2010 at a barbeque at Wilson's home where he lived with his wife and her 16-year-old daughter. According to prosecutors, Wilson and his wife got into an argument over a text message he exchanged with another woman. Wilson grabbed his wife, threw her to the ground, and fired a gun at her. She was struck in her right upper arm. When the daughter screamed at Wilson to stop, he turned and shot her in the face, striking her right cheek bone. Both victims were treated for their injuries at a Sacramento hospital. A bullet fragment still remains in the daughter's right cheekbone.
Jakari Wilson was three when his mother escaped from Jonestown with him on the morning of November 18. His father Joe, who had become one of Jim Jones' most trusted aides in Jonestown, died that day.
• The attack on Rep. Gabrielle Giffords in January 2011 – esp. while she hovered between life and death – recalled a previous attack on a congressman. Several news media compared the shooting to that of Rep. Leo Ryan in 1978, and interviewed a number of the principals and relatives, including a conversation on NPR with Ryan's daughter Erin.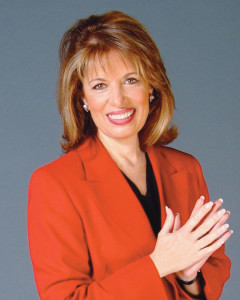 Rep. Jackie Speier, who was an aide to Rep. Leo Ryan during his November 1978 trip to Jonestown and who was seriously wounded in the attack at the airstrip that took her boss' life, compared the attacks on her colleague and on her boss 32 years earlier in an opinion piece, From Jonestown to Tucson, in the January 16, 2011 edition of the The San Francisco Chronicle. She was also quoted on CNN. A few days later, Speier proposed a resolution honoring her colleague and declaring a Saturday every January "National Congress on Your Corner Day."
However, a commentary in the conservative journal Human Events differentiated between the slaying of Leo Ryan and the attempted assassination of Gabrielle Giffords. "[O]ne mass murderer was a darling feted by politicians at the highest levels of government; the other was an outcast among outcasts," wrote Daniel J. Flynn in his opinion piece "Blood Libe(ra)ls." "Ironically, it is the pariah who had no politician friends, rather than the establishment darling, whose crimes turned into a partisan blame game. The reputations of Jim Jones' enablers and allies have remained strangely intact."
At least one other conservative website – the Minnesota Prager Discussion Group – used the attack on Gifford as a vehicle to compare Barack Obama to Jim Jones.
Several publications and online sites – including Wikipedia and the Twilight Language blog – followed the shooting with listings of members of Congress killed or wounded while in office.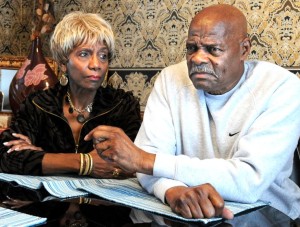 • Betty Smith, who reportedly lost five family members in Jonestown, and her husband, Rev. Mark Smith, were interviewed for an article on the nature of evil in the CantonRep.com website in Stark County, Ohio, in January.
• A political mailer for a county Republican chairman's race attracted attention beyond the borders of Palm Beach County, Florida, in December 2010, with its attack on a candidate including his photo superimposed over a background of Jonestown bodies. As depicted on by Poston Politics, the mailer sent to members of the party's Executive Committee depicts candidate Ed Lynch as the Kool-Aid man with the urgent message to voters not to drink the Lynch Kool-Aid. The flyer is labeled Lynchtown.
The incumbent Sid Dinerstein defeated Lynch on a 120-87 vote the next day.
• In addition to these news articles, Jonestown and Peoples Temple is often mentioned in the mainstream media both as cultural icons and in serious considerations of religious and political issues.
News from Guyana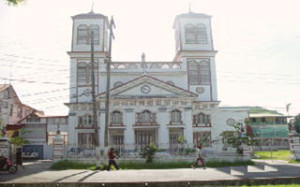 The San Francisco Examiner reported in February 2011 that a Catholic Church in Georgetown, Guyana "that was once used by Jim Jones and his followers from the People's Temple" and that burned down on Christmas Day in 2004, would be rebuilt. Construction of the Sacred Heart Church in Georgetown, which was considered a national landmark, is expected to cost about $390,000 US.
Most of the news coverage of the reconstruction focused on Jim Jones and Jonestown. However, as former member Don Beck – who brought the article to this website's attention – and two people who commented on the story online pointed out, Jones held a total of one service in the church, and that was in February 1975, soon after he arrived in Guyana and well before the mass migration of Temple members began.
Discussions of Jonestown
Kool-Aid, cults and hypocrisy
by Guy P. Harrison , The Cayman Observer, 20 March 2011
"It's a comforting feeling to think that it could never happen to you," warned Deborah Layton when I interviewed her several years ago. She knows more than most about dangerous groups and dangerous leaders.… "Nobody joins a cult," she said. "You join a religious group. You join a political organisation. You join a self-help group. Then things change gradually and at some point you stop and ask, 'What am I in?' It is OK to use the word 'cult' in the dictionary, but not when discussing various religions that are active now."
Layton's comments are an important warning for everyone. If ever you find yourself seduced by a person or an organization that has all the answers, perhaps they only seem so impressive because you have failed to ask enough questions.
Did We Drink the Kool-Aid in "Suicide Cult" Disappearance?
by Julie Ingersoll, Religion Dispatches, 3 October 2010
http://www.religiondispatches.org/archive/atheologies/3416/did_we_drink_the_kool-aid_in_"suicide_cult"_disappearance
Jonestown cited in political contexts
The GOP goes to Jonestown: For Republicans, rigidity reigns

by Richard Cohen, The Washington Post, 7 July 2011
https://www.nydailynews.com/opinion/gop-jonestown-republicans-rigidity-reigns-article-1.158562
Someone ought to study the Republican Party. I am not referring to another political scientist but to a mental health professional, preferably a specialist in the power of obsessions. The GOP has become a cult.… [Its] intellectual rigidity has produced a GOP presidential field that's a virtual political Jonestown.
This article was cited in several commentaries, including:
An Establishment in Panic
by Patrick J. Buchanan, buchanan.org, 7 July 2011
http://buchanan.org/blog/an-establishment-in-panic-4796
By refusing to accept tax increases in a deal to raise the debt ceiling, Republicans are behaving like "fanatics," writes David Brooks of The New York Times.… "The GOP has become a cult" that has replaced reason with "feverish" and "cockamamie beliefs," writes Richard Cohen of The Washington Post. The Republican "presidential field (is) a virtual political Jonestown," the Guyana site where more than 900 followers of the Peoples Temple drank the Kool-Aid that Rev. Jim Jones mixed for them.

Ad Hominem Attacks Are Not Necessary
by Peter Wehner, Commentary, 6 July 2011
https://www.commentarymagazine.com/peter-wehner/ad-hominem-attacks-are-not-necessary/ [Editor's note: This URL was found to be defunct in December 2022]
As Republicans in Congress and the president negotiate over raising the debt ceiling, liberal commentators are, as they so often do, adding to the quality of the debate based on the rigor and care of their arguments. For example, the Washington Post's Richard Cohen compares the GOP presidential field as "a virtual political Jonestown." … All in the name of elevated public discourse, of course.

Is the GOP Bound for 'Political Jonestown'?
by J.P. Green, The Democratic Strategist, 5 July 2011
https://thedemocraticstrategist.org/?s=What+puzzles+is+why+all+of+the+Republicans+have+guzzled+the+Koolaid
What puzzles is why all of the Republicans have guzzled the Koolaid. Why hasn't it dawned on the party's brighter bulbs, perhaps Senator Lugar or, maybe Scott Brown or Huntsman that "Hmm, I could really separate myself from the pack of idjits by taking things to a more rational level"? All indications are that the public would like to see a little more flexibility from Republicans.

The GOP Checks Into Jonestown
by Andrew Reinbach, The Huffington Post, 10 May 2011
http://www.huffingtonpost.com/andrew-reinbach/the-gop-checks-into-jones_b_860336.html
The Republican Party has apparently been kidnapped by a death cult that's perfectly willing to take America with it. The cult? The Tea Party, of course.
The tenth anniversary of the 9/11 attacks on the Twin Towers and the assassination of Osama bin Laden led to some comparisons between radical Muslims and Jim Jones.
Muslim and Christian reflect on extremist actions of 9/11
by Sara Higgins, Midland (Texas) Reporter-Telegram, 8 September 2011
http://www.mywesttexas.com/life/faith/article_52ff06de-89c8-5826-85e6-90525307378c.html
Ten years after the Sept. 11 attacks, a former Midland pastor says radical Islam is still the greatest threat the West ever has faced. The Rev. Jim Denison, former pastor of First Baptist Church of Midland and founder of the Denison Forum on Truth and Culture, explains his stance in his new book, Radical Islam: What You Need to Know. …
"Radical Muslims do not reflect their faith any more than Jim Jones reflected Christianity," he said, referring to the cult leader who led the Peoples Temple, best known for the 1978 massacre of more than 900 of its members. "By no means is it the truth that all Muslims are radical."
Bin Laden's last daze
by R. Emmett Tyrrell, Jr., The Washington Times, 10 May 2011,
http://www.washingtontimes.com/news/2011/may/10/bin-ladens-last-daze/
Yet in the end, Osama was a lonely has-been – a leader of a cult with only three women and some goats. Somehow, even the Rev. Jim Jones of the People's Temple exited more gloriously.
Evil Charisma: Osama Bin Laden, Hitler and Manson Had It
by Susan Donaldson James, ABC News, 4 May 2011
http://abcnews.go.com/Health/osama-bin-ladens-evil-charisma-recalls-adolf-hitler/story?id=13520863 or http://abcnewsradioonline.com/health-news/tag/peoples-temple
How did Osama bin Laden get hundreds of young recruits to strap bombs to their bodies and persuade well-educated men to fly suicide planes like missiles through the World Trade Center and the Pentagon?… Mark Stern, professor emeritus of Iona College in New York and an expert in the psychology of evil and Messianic figures, believes bin Laden was different from other evil charismatics, such as Adolph Hitler, Charles Manson and Jim Jones. "He had more of a political world view — more like a desire to save the world than to destroy it and rebuild it in his image," said Stern.
Time Magazine's coverage of the death of Osama bin Laden included a listing of the Top Ten Evil Lairs, which included Jonestown at position number 8.
Jonestown cited in serious articles
Male bashing in Barbados (#3A): "I think, therefore I jam"
by Junior Campbell, allvoices.com, 5 July 2011
One of the most common criticisms of fundamentalist evangelical Christianity in general and Pentecostalism in particular is its individualistic ethos. Cautions and warnings abound about the movement's preoccupation with charismatic leaders like Reverends T D Jakes, Billy Graham, Jimmy Swaggart and Eddie Long. These are "pop stars" of piety…. Sadly, personality cult tragedies like those involving Jim Jones and his followers who died with him in the horrific 1978 Jonestown, Guyana mass murder and suicide tragedy, demonstrate the validity of such cautions against "religious rock star" worship all too often.
Over the Threshold
http://prairiemary.blogspot.com/2010/10/over-threshold.html
When I was a Unitarian minister, like many others of the kind, I kept a "traveling sermon" that I used when doing pulpit supply. Since one was usually only there once as a replacement while the regular minister was elsewhere, one was free to be memorable and risky. So I told about a moment one warm afternoon standing on the Chicago El platform when suddenly, for no reason, I was flooded with fusion, joy and harmony. It only lasted a few moments… The best descriptions I found [of this phenomenon] were in terms of "liminality" in the work of Victor Turner and Van Gennep, anthropologists describing exotic tribal ceremonies. They spoke of "liminal time and place," that is, a state of mind in which one goes over a threshold (a limen) into a protected but risky "place" and then comes back, often profoundly changed by the experience… [Jonestown has been interpreted] as a liminal experience that went wrong because the participants went into that "other" place and refused or were unable to come out. In short Jim Jones' insanity was a liminality where all his people joined him."
Time to rethink it: Guyana is trying to cultivate a new image and finally shed the Jonestown stigma
by Jeff Greenwald, The Los Angeles Times, 29 May 2011
http://articles.latimes.com/2011/may/29/travel/la-tr-guyana-20110529
Looking for obscure creatures in an obscure country sums up the Guyana experience. Though the place is an environmental Eden, it's unknown to most people — who, when they think of Guyana, think of one thing only. Let's face it: Jonestown is the elephant in the room. Few people know anything else about Guyana.
If you read this, we survived: Don't let extremists define religions
by Wayne Laugesen, Colorado Springs Gazette, 21 May 2011
If you are alive and reading this today and the world has not been shaken and burned to the ground — if Armageddon is not well under way — then The Gazette's editorial board was right once again…Anyone, with any extreme message, is able to find a following in these times. Obama's birth certificate is not real and bin Laden is not dead, because kooky conspiracy theorists dupe the gullible. The Rev. Jim Jones managed to get more than 900 members of the Peoples Temple to commit suicide in 1978 by drinking cyanide-laced Flavor-Aid. … Tolerating these people is a cost associated with maintaining freedom. But freedom is best maintained in a context of self control and responsibility. Radical preachers, the likes of [evangelical radio host Harold] Camping, do more to harm religion and religious liberty than anti-religion activists could dream of doing.
Why I Don't Buy the May 21 Prophecy
by J. Lee Grady, Charisma Magazine, 11 May 2011
I spent the past week in Guyana, a South American nation where the people are friendly, the food is spicy and churches are growing at a healthy pace. But Christians there face a serious challenge because of the sad legacy of Jim Jones, the American cult leader who ordered his followers to drink poisoned Kool-Aid at their compound in Jonestown in 1978. The mass suicide, which killed 909 people (including Jones), went down in history as the world's worst example of religion gone wrong. "Even today, the Jim Jones tragedy poses a problem of credibility for us," one pastor in the city of Corriverton told me last week.

You can imagine my dismay when I arrived in Guyana and learned that groups of Americans were combing the streets and passing out literature claiming that Jesus will rapture the church on May 21. These Christians apparently are so convinced of the prediction that they traveled to the only English-speaking country in South America to deliver a last-minute warning.
Jonestown in cultural references
Reconciling Dan Gilbert's downtown play with Quicken Loans' mortgage history
by Jeff T. Wattrick, mlive, 22 July 2011
http://www.mlive.com/news/detroit/index.ssf/2011/07/reconciling_dan_gilberts_downt.html
As someone who once said I wasn't sure if I'd want to ride is an elevator with Dan Gilbert, going to Quicken Loans' corporate headquarters yesterday for the Magic Johnson/Detroit Venture Partners announcement felt a little like Leo Ryan going into Jonestown.

I'm being hyperbolic to make a point, obviously. Dan Gilbert isn't Jim Jones. He doesn't kill people. However, there is a vibe about Quicken that's very, let's say, Scientology-esque.
Android, Apple, BlackBerry: Are They Cults Yet?
by Sarah Jacobsson Purewal, PC World, 3 May 2011
We consider some of the classic characteristics of cults, then look for similarities in the behavior of these beloved tech companies and their fanboys and fangirls. It's not often that a company of any kind is accused of inspiring cultlike devotion. But that's certainly the case with at least one tech giant: Apple is widely considered to have a cultlike following among its customers.…

When people think of cults, they often think of the leaders–the crazy, power-hungry people who prey on the innocent minds (and pockets) of their followers. People think of leaders like James Warren "Jim" Jones, leader of the Peoples Temple cult, who orchestrated a mass suicide (by drinking cyanide-laced Flavor-Aid) of 900 of his cult's members.… Android doesn't have a charismatic leader. Google fathered Android, but Larry and Sergey aren't exactly what you'd call charismatic and charming.
Matali Crasset Unveils Gorgeous Desert Resort in Tunisia
by Suzanne LaBarre, Fastcodesign.com, 22 February 2011
https://web.archive.org/web/20210224202850/https://www.fastcompany.com/1663278/matali-crasset-unveils-gorgeous-desert-resort-in-tunisia
French design star Matali Crasset has finished her first architectural project, a splashy, experimental lodge set down in the heart of the Tunisian desert. Recall, for a moment, that when we first learned of Dar Hi, we worried that the place would resemble some sort of rich person's Jonestown. We're happy to report that we were completely, totally wrong.
Originally posted on July 25th, 2013.
Last modified on January 6th, 2023.