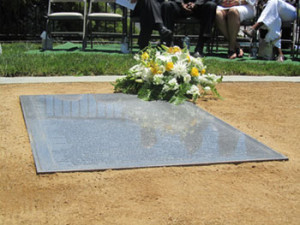 1. Roses in Memoriam – The students of Opportunity High, by Judy Bebelaar
2. Jonestown Memorial Coda, by David A. Berdass
3. New Memorial Honors Lives and Works of Those at Jonestown, by Edward Cromarty
4. The Memorial to Jonestown Victims at Evergreen Cemetery, by Natalia Danesi
5. Memorial finally becomes reality, by Josef Dieckman
6. Albatross, by Jennifer Kathleen Gibbons
6a. My Mike Wallace Moment, by Jennifer Kathleen Gibbons
7. When "feeling" surpasses "thinking": Reflections on the memorial, by Katherine Hill
8. Jonestown Memorial Brings Cathartic Release, by Chris Knight-Griffin
9. We came together on a special day, by Mike Lieber
10. My Journey to Evergreen, by Sylvia Marciniak
11. Hope Lives, by Catherine Abbott
12. Joining the Temple Community, by Daniel Russell
13. Reflection on the Jonestown Memorial Dedication, by Heather Shearer
14. Flying Home, by Bonnie Yates
14a. Again, by Bonnie Yates
Originally posted on July 25th, 2013.
Last modified on August 19th, 2014.