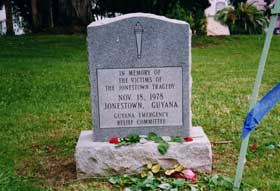 The annual memorial service at Evergreen Cemetery will begin at 11 A.M. on Wednesday, 18 November 2009. Pastor Jynona Norwood will preside. The cemetery is located at 6450 Camden Avenue, Oakland, California. For more information, contact Pastor Norwood at drnorwood@jones-town.org, or call (310) 419-3930.
There will be a separate memorial service for Temple members and relatives, also at Evergreen Cemetery, later on the afternoon of November 18. Please contact Jordan Vilchez for details.
For the seventh consecutive year, the California Historical Society Library will be open for former members, relatives and friends to view photographs and selections from the Peoples Temple Collection. The Library will be open Tuesday, 17 November 2009, from 11 am to 2 pm (Please note: The special opening is the day before the memorial service).
Originally posted on July 25th, 2013.
Last modified on February 27th, 2022.