After almost two years of work and numerous revisions, I sent off the CD I have been working on to the pressing plant August 31.
Although I am satisfied that the audio presents the subject matter in a respectful manner, I realized that two issues which still remained from almost the germination of this project were what to title the CD and what – if any – visuals were to accompany it.
The absolute last perception I want for this recording is one of "sensationalism." As I wrote in my first article for the jonestown report, my goal with this project was to "present the material in a manner contrary to the associations many people have regarding Jonestown…a perspective that more closely reflected the original aims of the people who followed Jones to Guyana." (An article from last year's edition appears here.)
After bouncing around numerous title options, I settled upon "We had a few sprinkles today, but not enough to help out in the garden."
At first blush – especially to someone unfamiliar with Jonestown – this title may seem a bit innocuous, which is fine, because I don't want the "sell" point of this recording to necessarily be the connection to Jonestown. However, for others more familiar with Jonestown, the phrase might ring a bell as one of the codes the Peoples Temple created for communication over shortwave.
I had decided to explore the radio codebook page of the Primary Sources section of this site to see what decoded phrases resonated with me and my intention for this CD. The coded phrase I settled on – "We had a few sprinkles today, but not enough to help out in the garden" – means "This is not a code." There is certainly a touch of irony in selecting this as a title, but I felt it rang true with what I wanted to extract from the Death Tape: that the original recording I permutated has another side to it, undeniable elements that reflect what the people in Jonestown had gone to Guyana to find.
Once I decided on the title, the artwork followed fairly easily. From the archival video footage I received from the Jonestown Institute, I took a photo of the radio receiver as it was being assembled. At the risk of diving into some overly-technical explanations, I then set the image to threshold (making it strictly black and white) and arranged for the artwork to be printed as a varnish on a white background. The end result is that the art is almost a faint "ghost" image that, in another way, pays homage to another element behind the source material, the White Night.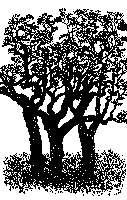 One final connection I was happy to make occurred after I had completed additional audio for a limited edition of the release. I was considering what artwork I wanted to have silk-screened on the wooden box for the CD limited edition and came across a drawing of trees by Jonestown resident Annie Moore. When I saw this artwork I thought it added a nice symbolic touch and a sense that the recording process was, truly, complete. Hopefully – for both those familiar with Jonestown and those who decide to explore further based on the nuances / subtleties I've presented with this CD..
If you are interested in obtaining a copy of the CD, please contact me at vertonen@earthlink.net.
Originally posted on July 25th, 2013.
Last modified on January 23rd, 2014.