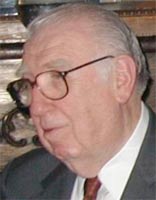 John Crimmins, who co-authored the State Department's 1979 assessment of its relationship  – as well as that of the U.S. Embassy in Georgetown – with Peoples Temple, died in December 2007. An obituary for him from The Washington Post appears here.
Jody Powell, who was President Jimmy Carter's Press Secretary at the time of the Jonestown tragedy, died on September 4, 2009.
Originally posted on July 25th, 2013.
Last modified on January 24th, 2014.