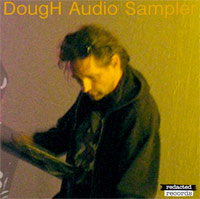 In 2000, during one of my regular periods of obsession about Jonestown, I was invited to participate in an art exhibit called "Soundtracks: visual art with an audio component" at the artspace gallery in Peterborough, Ontario, Canada. Though much of my existing visual work incorporated a sound element, I decided to create a new piece for the show that took the idea to a deliberately awkward, almost ridiculous literalism: I made a painting on canvas (the most iconic and conventional form for an objet d'art), scored a soundtrack for it, and plugged a set of headphones directly into it.
Among other reasons for my interest in the story of Jonestown, it has been one of the most distorted and misunderstood events of my lifetime. I have returned to it regularly as a subject in my art and writing over the past three decades. By choosing Jonestown as the subject matter of my "Soundtracks" painting, I was amplifying and expanding its awkwardness, emphasizing the chasm between the complexity of lived experience and the abstracted, distorted, simplified (and often sanitized and enfeebled) aesthetic entertainments that are accepted as its accurate representations – an ongoing concern in my artwork (as in much art of the last century) and, I believe, a point of major political and philosophical consequence in our exponentially mediated understanding of the world.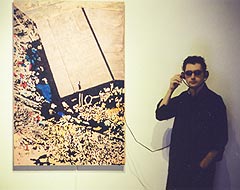 The visual component consisted of an acrylic painting on stretched canvas based on the already abstract-looking aerial shot of Jonestown showing the hundreds of bodies surrounding a large metal-roofed pavilion. Using this template, I altered the colors as if painting a purely non-representational, decorative artwork. For the soundtrack, I took various recordings of Jim Jones (sourced from the Death Tape as released on the 1984 Temple Records vinyl LP Thee Last Supper and some cassette dubs of some radio documentaries broadcast on the CBC in the late 80s or early 90s), and altered them using Cooledit software to equally unrecognizable layers of soft electronic drones and chiming loops. I made about five final edits, several of which consisted entirely of the altered voice of Jones.
On two others – including the one that was finally included in the exhibit, and which is posted online here – I added fragments of intelligible speech from Jones, as well as other narrative sound fragments such as shortwave Conet number broadcasts, said to be communications between covert field intelligence operatives and their agencies. I settled on this version because I felt that the visual image would be recognizable to some viewers (as it turned out to be) and that the soundtrack should occupy a similar threshold of intelligibility, and the impressionistic narrative arc created by the inclusion of recognizable verbal components further emphasized the insulating rational cushioning provided by the fictionalization process. The piece was acquired from the "Soundtracks" show and remains in a private collection in Canada.
(Doug Harvey is an artist, writer, curator, and experimental musician living and working in LA. His website is www.dougharvey.la.)
Originally posted on July 25th, 2013.
Last modified on January 23rd, 2014.