Special Section: He's Able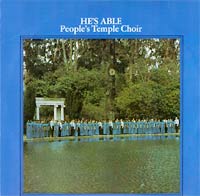 The Peoples Temple choir recorded an album in 1973 entitled He's Able, which offered a sampler of the music that Temple members would listen to, both during church services themselves and on the record players in their homes. As Brian Kevin says in the introduction of the first article, "It's a twelve-song collection, a mix of old spirituals, gospel-inspired originals, and a couple of late '60s Top 40 hits, all performed by a full choir and an eight-piece blue-eyed soul outfit with a hot brass section."
The articles below are by producers and performers on the album, as well as a longer work by Brian Kevin.
A podcast recorded in 2021 by Shannon Howard which discusses He's Able with Jack Beam and Mike Cartmell, who participated in the production of the album, appears here.
The lyrics to the songs on the album – enclosed with each copy of the vinyl disk – are here.
The tracks of He's Able are:
He's Able may also be played in its entirety through a YouTube link, which opens to the album's first song, "Welcome," and which continues by using the "Autoplay" function above the song titles, in the upper right hand corner of the panel.
Originally posted on July 25th, 2013.
Last modified on November 3rd, 2022.