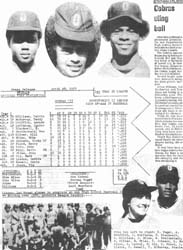 As a baseball coach, I've learned to accept the fact that I don't hold onto my players for very long. I have them for a couple of years, then lose them to graduation. Coaching the Cobras at Opportunity High School in San Francisco in 1977, though, the big difference from one school year to the next had less to do with departing seniors than it did with the fact that the heart and soul of my team were young men from Peoples Temple, and they migrated with 900 others to Guyana during that summer. Most of them died in Jonestown.
The following are my memories of the young Temple members who were on the 1977 Cobra baseball team.
Billy Oliver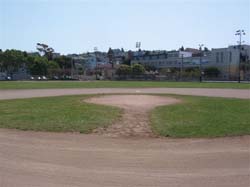 Billy was a huge, likable kid. He was, in fact, the largest boy in the school. He was also among the most reliable players on the team. He caught and backed up at first base. He was a solid .300 hitter who had long ball potential. Billy was a fair defensive catcher who often intimidated opposing batters and caused many of them to strike out with his constant. "Hey batter, batter" patter. His main shortcoming was getting the ball down to second in time on steals. His release was so slow he seldom threw any one out stealing second. I would send Emmanuel Blackwell in to relieve him when it got especially bad.
What I recall most about Billy was his constant smile, good nature and his love of baseball. He was extremely happy to be on the team and it showed.
Wesley Breidenbach
This tall, broad-shouldered kid came to us from Redwood Valley in Ukiah. Wesley had had a part-time job there working in the vineyards.  After Tim Tupper Jones left for Guyana early in the season Wes became the pitching mainstay for the Cobras. He shared those duties with John and Mike Miles. He struck out his share, but walked an equal number.
Wes wielded a heavy bat, hitting .363 on the season. He tried to take over the leadership that Tim had established, but did not command the respect the players had given his predecessor. Once Wes showed great versatility taking over for Billy Oliver behind the plate after Billy split his finger.
Wes was easy to work with, but he liked to argue with the umpires and at time even with the coaches. Wes was on the mound during a league game at Funston Park in the Marina District against Galileo. Wes had an unprecedented nine "balks" called against him. A balk – one of the lesser-known rules in baseball – is an illegal move made by the pitcher during his delivery, and any runners on base are allowed to move up a base. Some umpires have been known to call balks as an abuse of power to show that they are indeed running the show. As a rule, at that level of play, umpires will seldom call no more than one balk per game on any pitcher – and nine is unheard of. The umpire who made those nine balk calls seemed to have it in for the entire team, but he really made an example of Breidenbach.
In another instance during the same game, the umpire nullified a home run hit by Amondo Griffith. As Amondo was circling the bases, Wes came out of the dugout to slap a high five on his teammate. Unfortunately, Wes got too close to the field, and Amondo ran into him as he was rounding third. Both he and Wes fell down, and the umpire called Amondo out.
The Cobras lost the game 16 to 15 after leading at one point 13 to 4.
Wes knew and loved the game of baseball. It had been part of his life since his Little League days. He told me he would love to play baseball in college someday. He certainly had the raw talent to make it at the college level. Wes also played on the Jonestown basketball team, but did not go to the tournament in Georgetown with the team that day in November 1978.
Mark Sly
Mark at 15 was determined to make the Cobra team. His main opposition for right field was our female player, Debbie Liatos, who did as well at the plate as he did. Both Mark and Debbie went hitless for the season, but Mark walked a few times and managed to steal six bases as well as scoring a few runs. Each of them could track down the fly ball and cut off singles as well as throw to cut off man. Mark started a few games and gave every game his all.
It must have been hard for Mark as Debbie often relieved him in the third inning. I know other players must have ribbed him. As time went on our team for the most part came to accept Debbie's presence, but the other teams always reacted to her with hoots and jeers.
Mark always wore a blue fisherman's cap with a red star on it. He was serious about baseball. He had trouble getting his father to fork out for his spikes, but he finally got them. He used to talk about his father who ran and maintained the fleet of Peoples Temple busses that would often whisk students on long cross-country trips to support appearances of Jim Jones. I recall speaking to Mark's dad, Don, a few times when he came by the school. He seemed like a very nice man.
I first met Mark in the art room one day late in 1976 and we began talking baseball. This was about the time general interest in the team was brewing. In a brief piece for the school paper about why he wanted to play baseball, he wrote, "It keeps us out of trouble and gives us something to do."
Mark later joined the journalism class and played a role in getting the Peoples Temple print shop to print the May-June 1977 edition of The Natural High Express – the school paper. Mark did most of the layout for that issue.
I recall a conversation I had with Mark on the school balcony. He said he would be leaving for Guyana soon and that he really didn't want to go. He liked Opportunity High and enjoyed every day he was there. I asked him if he couldn't get out of going, and he said no. The only choice he had was to run away. The force of family obligations was strong in Mark and he felt he had to do as his parents wished – both his parents were loyal and longtime church members.
I have often remembered the quiet reflective young boy and that conversation we had on the balcony that day in 1977.
Ricky Johnson
Ricky played first base and hit .222 for the season. What I recall most about Ricky was that he had a large Afro haircut that was so big he had a hard time keeping his baseball hat on his head. Umpires insisted that all players be in complete uniform while on the field. Ricky seemed to spend lots of time chasing his hat around after the wind often blew it off his head. He was a strong, handsome, happy-go-lucky kid who enjoyed playing ball. He also liked to sing.
Christopher Newell
Chris was the youngest player of the team. He actually started out as an equipment manager, but worked his way on to the team appearing in five games as an outfielder. He was a good looking and polite young man.
Stanley Wright
Stanley was an equipment manager for the first part of the season. He always seemed a little confused about what was going on. He quit the team after the fifth game. Some of the players had a habit of piling into both my car and that of Norman, the Assistant Coach, for a ride to the nearest bus stop. After a game in the freezing wind at West Sunset, my station wagon was jammed to the roof and so was Norman's. As we started to pull away from the curb, Stanley jumped to the front of my car and demanded a ride. I offered him some bus fare and told him I was sorry but there was no more room. Stanley yelled at both of us, "I'll get you for this!"
Norm's van was later vandalized.
Stanley just seemed to be lost. He had wild eyes and a sad smile.
Ted McMurray
Ted played centerfield and had a great season for the Cobras. Second in hitting behind Calvin Douglas Williams, he hit a whopping .564 and led the team in doubles, most at bats, most hits, and stolen bases – he actually stole nine bases in one game against Wilson. He even stole home once. Ted was a very dedicated young man, very quiet and reserved. He was smaller than the other players, but could do anything they could do on the baseball field. He had played ball before he came to Opportunity someplace and it showed. I really liked to watch him play.
Ted McMurray led the 1977 Opportunity High Cobras in several areas.
At bat 39

Most stolen bases 31 including stealing home 1

Most stolen bases in one game 9

Most hits 22

Most runs scored 17

Most hit by pitcher 3

Most doubles 4 tied with Calvin Douglas Williams
Amondo Griffith
Amondo came to Opportunity from Mission High were he had played on the JV baseball team. He was a very smooth second baseman. No slouch at the bat, he batted .533, the third best on the team, and it seemed he was always on base. Amondo had eight RBI's in one game against Galileo, including two doubles and two triples. On the field he was pretty Golden Glove-like and was part of a rare triple play combination. "Mondo," as his teammates called him, had a strong love for the game and played hard at all season long. He was a solid and reliable player and he had great athletic talent. He also wrote some fine poetry in Judy Bebelaar's class.
* * *
Other Peoples Temple members who played for the Cobras before going to Guyana – and who survived because they were on the Jonestown basketball team in Georgetown that day – were:
Tim Tupper Jones

Johnny Cobb

Calvin Douglas Williams
(Ron Cabral and Judy Bebelaar are collaborating on a book about the young people they knew in Peoples Temple who went to Guyana. A story about the book appears here. Ron Cabral can be reached at larbac67@astound.net and Judy Bebelaar at judy@judybebelaar.com.)
Originally posted on July 25th, 2013.
Last modified on February 11th, 2014.