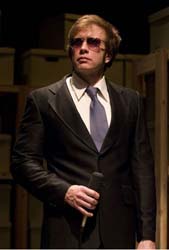 Leigh Fondakowski's play, The People's Temple, ran through the month of September 2008 in Chicago. Staged by the American Theatre Company, a small, ensemble theater company, the play ran for the first time under Fondakowski's direction without her original ensemble cast. Articles in this year's jonestown report include those by ATC actors Cheryl Graeff, Tim Decker, and Editha Rosario.
Reviews of the play include those in The Chicago Herald of September 11, The Chicago Pride on September 17, and an art-and-culture website, Gapers Block, on September 23.
A preview of the play in the August 15 issue of Broadway World appears here.
Originally posted on July 25th, 2013.
Last modified on December 26th, 2022.