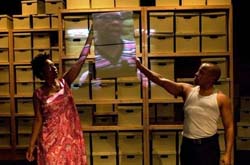 I first heard of Jonestown in the spring of 2002. A friend and I were road-tripping through the South, my first experience in that part of the country. I was an idealistic 24-year-old actor and high school teacher, visiting sites in Memphis and New Orleans during spring break. We were in our Memphis hotel, emotionally exhausted after visiting the National Civil Rights Museum, when I flipped on the TV and caught the beginning of a news special on Jonestown. Even today, I remember how learning of Jonestown at this particular time helped to put my trip to the South in perspective.
My time there overwhelmed me. The previous week's trek through New Orleans included several plantation tours, but that week, I chose to explore the more residential areas as well as the sites. Almost everywhere we went, we found people begging for food and money. Most of them black, and all of them were clothed so poorly as if from another time. While I was no stranger to poverty, the amassing of these experiences filled me with a sense of despair. The continuing line between black and white in the southern United States floored me. I felt as if I were truly in another country.
In watching the news special, I recognized not only that the race issues which Peoples Temple tried to address were alive and well, but that work on that scale, as tragic as was the end, can be inspiring. As a teacher at a progress alternative high school in Chicago, I felt reinvigorated by the group's belief in the collective spirit. I went back to Chicago and worked even harder to ensure that my students – mostly poor and black – graduated. I also worked to write and act in plays in which audiences could use their hearts and minds to free themselves from the pain that oppression can cause all people.
I continue to explore how to concurrently work to change and uproot institutional oppression while participating in our society. My background as a bi-racial woman from a religious, working class family in Chicago proper, has translated into an enthusiasm for leftist politics and a life in the theater.
When I was asked to participate in Leigh Fondakowski's The People's Temple at a company where I am an ensemble member, I found the perfect storm of elements to do the kind of work actors rarely have the opportunity to do.
This process has taught me many lessons, both spiritual and political. On a practical note, our company learned how to push the limits of the size and scope of production that is possible. While we are still learning what is within the realms of possibilities, we did indeed pull it off, which demonstrated great growth for us as a collective group of artists.
I've also re-learned how the theatrical process can be a unique political act. Everyone has a common goal, and no one leaves until that goal is reached. Barring health or safety concerns, it's just not an option. There is a love for what everyone is doing that is taken for granted. This is what binds the group through the difficult moments, and when people actually commune.
I've learned that I am not that different from anyone in the Temple. Several times in this process I have had the very clear thought: "I would have joined Peoples Temple." As an idealist, I absolutely need a space where I can express what I think is the very best part of me. The theater is my space, and in this production, our space.
Coupling this process with this story, then, has truly taught me about the genuine collective spirit, which contemporary American culture continually tries to ignore, devalue, and repress. I've confirmed the moral that no matter how bad it might seem to a leftist like me, there are spaces in our society to express and realize idealism if we are willing to create them.
So in this 30th anniversary year – which happens to be my 30th year – I am honored to be a part of a process that has taught me how to put my idealism to work in order to find what is possible. We are a group of artists working not only to remember the stories of love and hope in Peoples Temple, but to encourage those who come to watch to ask themselves what can come of such devotion in our own lives.
I hope our audiences will see that.
Originally posted on July 25th, 2013.
Last modified on February 25th, 2014.