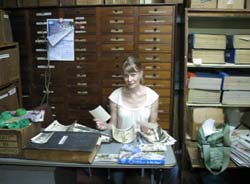 Since my plea for sources in last year's article in the jonestown report, I've interviewed many former members of Peoples Temple – to whom I'm very grateful – and have sold my book proposal to Free Press. I recently returned from a research trip to Guyana, where I visited the Jonestown site. Now I'm in the thick of writing.
The narrative focuses on the last year of Jonestown. The book is based on documents found in the community after the tragedy, but the tone will be more literary than academic. It is geared toward a general audience.
I'm still looking to interview more people who knew the following members however peripherally:
• Christine Miller
• Edith Roller
• Paula Adams
• Larry Schacht
• Tom Grubbs
• Monique Bacon
• Shanda James
I'd also like to talk to people who helped build and maintain Jonestown. Today the site has been reclaimed by the jungle of course, but when I was standing in the middle of it this August, I couldn't help being impressed with what a feat it was to erect a community there in the first place. The location is remote, the insects swarming, the heat unrelenting.
Another area of great interest to me is whether families were able to maintain their unity despite Jones' attempts to break down this most basic of bonds – the relationship between a parent and child or wife and husband. I know from reading the documents that some family members informed on each other for breaking Jones' mandates, but that others were able to protect their sanctity to the point that they were able to plan and execute their escapes. I'd like to know more about relationship dynamics in Jonestown. What effect did the community rules have on people? Were some to find ways to have honest, and even, perhaps, "treasonous" conversations about their Jonestown experience? How did others come to believe that informing on their siblings, children, parents or lovers was the right thing to do?
If you feel you can add to the depth of my portrayal of Jonestown, I invite you to contact me. Your contribution can remain anonymous, if you wish (i.e. your name doesn't need to be printed in the book if you'd prefer it not be). My primary goal is to depict life in Jonestown in a manner that is as accurate and heartfelt as possible.
Thank you.
(Julia Scheeres can be reached at juliascheeres@gmail.com. Her other article in this year's report is A Trip to Jonestown, August 2008.)
Originally posted on July 25th, 2013.
Last modified on February 25th, 2014.