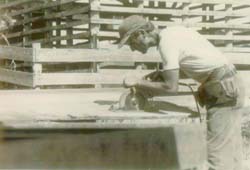 San Diego State University is preserving a collection of Peoples Temple records, including audiotapes and tape transcripts, photocopies of original unclassified documents from the federal government, and newspaper and magazine articles related to the Peoples Temple Christian Church and the Peoples Temple Agricultural Settlement at Jonestown, Guyana. Fielding McGehee III and Dr. Rebecca Moore donated the collection to the SDSU Library in 2003-04.
The audiotapes and typed transcripts span the years of Peoples Temples existence, from the 1950s through November 1978. They contain sermons delivered by Jim Jones, conversations between Jones and his followers and various public figures, Jonestown meetings involving Peoples Temple ideologies and issues within the settlement, news broadcasts by Jones and radio broadcasts from Jonestown, and recordings of Russian language lessons.
The government documents include photocopies of papers retrieved from Jonestown that include personnel files and member profiles; financial and medical inventories and records; affidavits, letters, and diaries written by Peoples Temple members; contact information between Jonestown and various countries; and documents of contact between Peoples Temple and various U.S. government agencies. In addition to the documents retrieved at Jonestown, there are documents and files prepared by the FBI after the November 18 mass deaths, such as autopsy reports and fingerprint identification documents.
The collection has been inventoried and described in a Finding Aid held in Special Collections and University Archives at SDSU's Library and Information Access. The Finding Aid is also available on the Special Collections' website here. It is fully searchable by keyword or simple browsing.
Furthermore, a Personal Name Index has been prepared to facilitate further research of the audiotapes and transcripts. The Index allows a researcher to find the transcript and tape on which an individual's name is mentioned. The Index has also been posted to the Special Collections' website here.
Special Collections is launching a program to preserve the audiotapes in the collection using a digitization conversion process for archival safekeeping. Audiotape is not a preservation medium, and storing the digital files on CD or DVD as well as on Library servers and hard discs will help to ensure their preservation. Special Collections is also assisting the Jonestown Institute with storage for digital files of audiotapes in its possession.
Special Collections is very pleased to have these records of Peoples Temple for use in support of its teaching and research mission. The collection has added significantly to the body of research materials available to students and scholars and has been used on numerous occasions in classroom teaching and instruction.
For further information, please contact SDSU Special Collections and University Archives at (619) 594-6791.
(Robert Ray is Head of Special Collections and University Archives at San Diego State University Library and Information Access. He can be reached at robert.ray@sdsu.edu.)
Originally posted on July 25th, 2013.
Last modified on January 27th, 2023.