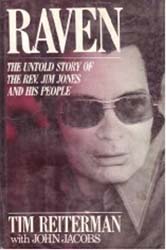 • Tim Reiterman's book Raven, the most extensive and popular history of the Peoples Temple movement and the deaths in Jonestown, will be republished this fall in paperback form. The hardback edition – published in 1982 and long out-of-print – is one of "the most sought-after out-of-print titles in America," according to a survey by an used book Internet site.
Reiterman was a reporter for the San Francisco Examiner when he went to Jonestown with Rep. Leo Ryan's party. In recent years, he has been the San Francisco bureau chief for the Los Angeles Times, until late this summer, when he became the Northern California news editor for the Associated Press.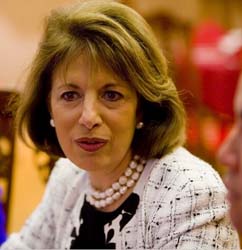 • Jackie Speier, former aide to Rep. Leo Ryan, was elected in 2008 during a special election to fill the congressional seat once occupied by her political mentor.
 Ms. Speier accompanied Ryan to Jonestown in November 1978 and was severely wounded during the attack on the congressional party at the Port Kaituma airstrip.
The former California state senator had been favored to win the San Mateo seat in this November's elections, replacing Rep. Tom Lantos who had announced his plans to retire. However, the seat became open this past February when Lantos died, and Ms. Speier prevailed with 78% of the vote over several rivals in the April 8 special election.
News coverage of the congressional newcomer included a lengthy piece in The San Jose Mercury-News. A Washington Post article profiling Speier includes her reflections on how her experience with Peoples Temple shaped her political life.
• The University of San Diego Toreros men's basketball team upset the heavily-favored University of Connecticut Huskies in the opening round of the NCAA tournament, before falling in the second round to Western Kentucky. Freshman Rob Jones, the son of Jim Jones Jr. and grandson of Jim Jones, had strong performances in both games.
An article in last year's edition of the jonestown report about an ESPN documentary on the Jones family appears here.
• Progress has been made on plans to erect a memorial wall honoring the Jonestown dead at the mass grave in Oakland's Evergreen Cemetery. The project was initiated several years ago by Rev. Jynona Norwood, but late last year received enough funding to allow work on the wall to begin. A news story about the wall appears here.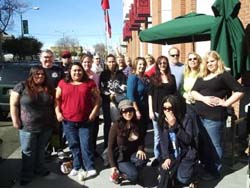 The small tombstone over the gravesite, where 412 unidentified and unclaimed bodies from the deaths in Jonestown are buried, is the most photographed marker in the world, according to the cemetery. It also attracts numerous tours, including those for Paranormal Investigators in Training.
• Joseph Russoniello, the U.S. Attorney who led the  prosecution team against former Temple member Larry Layton in the 1980s, returned to the job after a 17-year absence. Acting on the nomination by President Bush, the U.S. Senate confirmed Russoniello's appointment in late December without opposition. He resumed his work in early January 2008.
• In addition to news articles, Jonestown and Peoples Temple is often mentioned in the mainstream media both as cultural icons and in serious considerations of religious and political issues.
1. Jonestown in cultural references
 The Obama Hypnosis
by Monica Crowley, Human Events, Washington, DC, July 24, 2008
Every day, there seems to be a new example of Barack Obama's Peoples' Temple-like grip on otherwise (semi) rational people. What began as a political phenomenon borne of a particularly charismatic figure has turned into a creepy and possibly malignant force. It is the Obama Hypnosis.
Set Pastor Zhang Zhongxin Free
by Frederick Meekins, WEB Commentary (reprinted in Canada Free Press), July 27, 2008
According to the China Aid Association, Pastor Zhang Zhongxin has been sentenced to two years in a Chinese labor camp by Shandong Province authorities for participation in cultic activities. To American ears, such allegations bring to mind images of passing around poisoned Kool-Aid or of adolescent brides forced to wed lecherous old men; however, in this case this pastor engaged in religious exercises most of us take for granted as harmless as organizing a Sunday school.
How does AutoWeek celebrate a half-century birthday?
by Dutch Mandel, Autoweek, July 18, 2008
There are more than a few schools of thought when it comes to party planning and execution. I know this from my well-financed college tenure as president of the Oregon Gamma chapter, Sigma Phi Epsilon (now defunct). That was where we held the first–and still champion–Jim Jones Kool-Aid Blow Out and Mixer. No one said it had to be in good taste, just that it taste good. It did.
On this Internet site touting the many different uses of Bounce brand fabric softener, "[O]ne of our more intrepid readers tested most of the uses for Bounce … and reported the following mixed results:

"1) Get rid of ants… Totally did not work… [But] Orange Clean, I found, worked like a charm not only to safely disinfect my kitchen, but create a veritable ant Jonestown."
Ahmadinejad is Iran's Jim Jones
by James Zumwalt, Human Events, May 6, 2008
In 1978, Peoples Temple cult-founder Jim Jones shocked the world by leading his followers in a mass murder-suicide at their isolated community in Guyana, South America.  Over 900 people died by poisoning, taken either voluntarily or under duress, in the largest mass suicide in history.  Ahmadinejad is Iran's Jim Jones on a global scale.  He will lead his people and the world community into chaos in fulfillment of his mission.
Don't Drink The Kool-Aid: Oprah, Obama and The Occult
A book critical of daytime TV talk show hostess Oprah Winfrey was released in early March with a Jonestown-related title. Don't Drink The Kool-Aid: Oprah, Obama and The Occult was advertised and reviewed on many Christian Internet sites, including the Christian News Wire.
Chinese Consulate is opposed to program
by Angela Lau, San Diego Union-Tribune, January 12, 2008
Despite pressure from the Chinese Consulate to boycott a New Year celebration at the Escondido arts center, because of the show's alleged link to a spiritual movement outlawed in China, the show will go on. … The letter [from the Consulate] said the show's producer is backed by Falun Gong, which it likened to the Branch Davidians and Peoples Temple cults.
2. Citing Jonestown in serious articles
Tony Alamo talks about the raid of his Arkansas compound
by Brad Greenberg, Christianity Today, September 24, 2008
I'm always skeptical when people refer to fringe religious groups as "cults." You know, Christianity was a heretical Jewish cult in the first century, and look how that turned out.

The word cult was thrown around in Sunday papers this weekend following the raid of the Tony Alamo Ministries, and again, I chose against using the word. The guy certainly seemed odd, and allegations of a child pornography ring at his religious compound didn't help. But those were allegations, and Fouke, Ark., wasn't Jonestown or Rancho Santa Fe.
Tony Alamo Ministries is listed as a hate group by SPLC
by Ron Breeding, KUAR, October 22, 2007
SPLC [Southern Poverty Law Center] spokesman Mark Potok says Alamo's hate is largely directed at one target: the Catholic church, which he blames for everything from communism and Nazism to pornography and the Jonestown Massacre. (site includes audio clip)
Sex & Sects: Why does sex play such a large role within fringe religions?
by Kimberly Winston, Religion News Service, June 20, 2008
In the case of the Branch Davidians, sex with prophet David Koresh was seen as normal and desirable—even when it involved girls as young as 14. Similarly, in the Peoples Temple, whose members committed mass suicide in the Guyana jungle in 1978, sex with leader Jim Jones was sometimes a reward—for both men and women, married and unmarried.
Top Ten Skeletons in the Left's Closetby Daniel J. Flynn, Front Page Magazine, May 16, 2008
When the Left writes its own history, the past gets rewritten to suit the needs of the present. This is why I wrote A Conservative History of the American Left, to conserve not only fascinating figures now forgotten but to retrieve from the memory hole all that the Left has tossed down it. What is the history of the American Left that leftists want you to forget?…

6. Jonestown Kool-Aid

Before orchestrating the murder/suicides 900+ people in Guyana, Jim Jones was the darling of the San Francisco Left. Huey Newton, Angela Davis, and Willie Brown embraced a man who killed more blacks than the KKK. Democrats Rosalynn Carter, Walter Mondale, and Gerry Brown made campaign visits to the Peoples Temple's "comrade leader." The mayor of San Francisco even rewarded Jones for his activism by appointing him chairman of the city's housing commission. "The temple was as much a left-wing political crusade as a church," The Nation reported in 1978. Unfortunately, as the years progressed, more Americans gulped down the Left's Kool-Aid that Jones was of the religious Right and not an atheist leftist.
Behind Rev. Wright's recycled rage
by Jack Cashill, World Net Daily, April 10, 2008
On the occasion of the 15th anniversary of Waco, it seems an appropriate time to review the way in which Barack Obama's spiritual mentor, the Rev. Jeremiah Wright, responded to that tragedy… Wright's so-called black liberation theology owes less to the Rev. Martin Luther King than it does to that maestro of paranoid racialism, the Rev. Jim Jones.

In the 1960s and 1970s, the very white Jones fed his largely black congregants such a steady diet of race-based anxiety that they came to believe only death would spare them the wrath of the "man."

Jones, at least, was an original. He exploited the Democratic Party to buffer his self-professed communism.

As to Christianity, he used that as a front to pave the way to a materialist Utopia.

"Free at last, free at last," he would lead his temple comrades in prayer, "thank socialism almighty we will be free at last." They eventually found that freedom in cyanide-laced Kool-Aid in the jungles of Guyana.

To be fair to the Kool-Aid drinkers, in the 1970s institutional racism was not a distant memory. Many of his older congregants had come of age in the Jim Crow South. Jones rubbed fresh salt in real wounds.

Wright's congregants, Obama especially, have no such excuse. The shopworn racial myths that Wright peddles are not just deranged, but, in the age of the Internet, easily disproved, every single one of them.
Personal Perspective: With friends like these
by Marshall Kilduff, San Francisco Chronicle, February 4, 2008
How could they hang with that creep? What were Oakland's leaders thinking?

Those questions run through the mind in the wake of revelations of how Oakland politicians tolerated the thuggish, thieving conduct of Yusuf Bey and his followers. For years.…

It's time for a history lesson. … In the late 1970s, the Rev. Jim Jones likewise surrounded himself with big-shouldered bodyguards and a retinue of flunkies. He gave edgy speeches on civil rights and marched at housing eviction protests. His church nursed social programs and health care on a grimy corner in the Fillmore District. He was a wizard with the race card: a white preacher who led a congregation of largely black and poor followers. As in Oakland, the political set flocked to his Peoples Temple to be part of the show. Doubt was not encouraged.

The names of the visitors are gilt-edged Hall of Famers. In San Francisco, it was Willie Brown, gay icon Harvey Milk and then-Mayor George Moscone, who named Jones to the Housing Authority. In Oakland, Bey's chums included former mayor and now Attorney General Jerry Brown, Mayor Ron Dellums and U.S. Rep. Barbara Lee. There were plenty of others on both guest lists.
Originally posted on July 25th, 2013.
Last modified on January 5th, 2023.