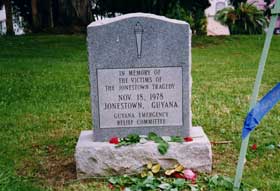 The annual memorial service at Evergreen Cemetery will begin at 11 A.M. on 18 November 2006. Pastor Jynona Norwood will preside. The cemetery is located at 6450 Camden Avenue, Oakland, California. For more information, contact Pastor Norwood at drnorwood@jones-town.org, or call (310) 419-3930.
For the fourth consecutive year, the California Historical Society Library will host a special afternoon for former members, relatives and friends to view photographs and selections from the Peoples Temple Collection. There will be a listening station in the reading room so that individuals can listen to recordings from among the more than 800 cassette tapes of Peoples Temple services, meetings, and communications between the U.S. and Guyana. The Library will be open Saturday afternoon from 12 to 4:30 pm.
CHS is located in downtown San Francisco at 678 Mission Street, San Francisco 94105. For more information, contact Mary Morganti, Director of Library & Archives, at 415-357-1848 x242, or mmorganti@calhist.org.
Originally posted on July 25th, 2013.
Last modified on March 4th, 2014.