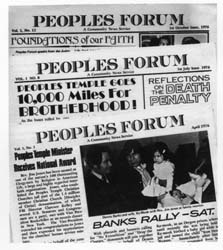 The California Historical Society (CHS) is the chief repository of documents, publications, and photographs related to Peoples Temple and events that surrounded the 1978 tragedy in Jonestown, Guyana. These extensive materials, known collectively as the Peoples Temple Collection, include organizational records, personal papers, legal documents, audiotapes, and photographs.
Our efforts in the archives over the past year have focused on the preservation and processing of new collections of Peoples Temple-related materials and responding to research requests from individual researchers, several film production companies in the U.S. and Canada, and theaters in Alaska and Minnesota.
Researchers will find unique and interesting papers in the Margaret T. Singer materials on Peoples Temple. The collection contains original documents given to Dr. Singer by former members and Jonestown survivors, including materials pertaining to the Human Freedom Center and an extensive newspaper clipping file on Peoples Temple from 1953 to 1979. In the expanded collection of scholar and author John R. Hall, researchers will find published reports by various state and federal agencies in the aftermath of Jonestown from 1979 to 1980. The library also has audiotape dubs of all the FBI tapes from Jonestown. Additional personal papers from former members, writings from young Peoples Temple students who attended Opportunity High School in San Francisco, and original letters from Marceline Jones to an adoption placement worker in Indiana have recently been added to the collection of Peoples Temple miscellany.
This past year, Peoples Temple Collection archivists assembled several smaller collections to facilitate research in the tracking of Peoples Temple history in the print media and in its own publications. One collection consists of clippings from newspapers and magazines throughout the United States on Peoples Temple from 1953 through November 18, 1978. Another collection contains brochures, flyers and other printed materials produced by Peoples Temple as well as all available issues of Peoples Forum published from 1976 to 1978.
Mary Morganti, Director of Library & Archives, continues to welcome donations of Peoples Temple and Jonestown-related materials that enhance the research potential of the existing collection, and further new and varied perspectives on the history of Peoples Temple.
For the fourth consecutive year, CHS will host a special afternoon in November in the Library for former members, relatives and friends to view photographs and selections of our recent acquisitions from the Peoples Temple Collection. The date for this year's opening is Saturday, November 18th, 2006 from 12:00 to 4:00pm. CHS has also established a listening station in the reading room so that individuals can listen to recordings from among the more than 800 cassette tapes of Peoples Temple services, meetings, and communications between the U.S. and Guyana.
CHS is located in downtown San Francisco at 678 Mission Street, San Francisco, CA 94105. The North Baker Research Library is open to the public Wednesday through Friday from 12:00 pm to 4:30 pm. Appointments are not required, but researchers who are approaching the Peoples Temple Collection for the first time are encouraged to email reference@calhist.org or call 415-357-1848 ext. 220 for assistance prior to their arrival.
Denice Stephenson, Peoples Temple Collection Archivist
Mary Morganti, Director of Library & Archives
California Historical Society
Originally posted on July 25th, 2013.
Last modified on March 5th, 2014.