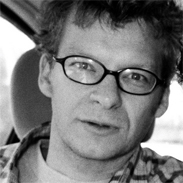 Garrett Scott contacted the managers of this website in 2005 to talk about his preliminary plans to make a documentary on Peoples Temple and the Milk-Moscone assassinations. We had extensive email and phone conversations, and finally met for dinner at Nick's at the Beach in Pacific Beach, California.
To be honest, we were rather dubious of working with anyone on yet another documentary about Peoples Temple and Jonestown, having been involved in numerous productions as technical advisors, participants, and researchers. Garrett must have found us initially skeptical and hard to talk to. But he quickly won us over with his insight, understanding, and appreciation for our efforts to interpret Jonestown outside the boundaries of the usual "cult/brainwashing" paradigm. Indeed, he did not even begin at that point – unusual in itself – but made it clear that he saw Jonestown as part of the larger story about New Left politics, the 1970s, race and class, and American culture.
This was apparent in his documentary Cul-de-Sac, which impressed us so much that we have shared our copy of it with a number of friends. That documentary revolves around a 1995 incident in which a San Diego man stole a military tank from a National Guard armory and drove it through his neighborhood, crushing cars and mailboxes, damaging yards and streets. But the news story is merely a point of departure. From there, the film is simply one of the best discussions of militarism, the rise and fall of defense industries, the creation of a new American underclass, and the failure of our society to address problems of unemployment, marginality, and despair. The fact that the police never attempted to talk to the man who stole the tank – merely surrounded him and shot him dead – indicates the depth of this problem. Why didn't the police ask his brother to talk him down? Why weren't there any negotiations? The man was rendered helpless and had no place to go, yet he was shot like a dog. Yet Garrett never said any of this directly; he simply showed it, and let people speak for themselves.
Garrett's second documentary firmly established his reputation on the national scene. Occupation: Dreamland follows a platoon of U.S. military personnel stationed outside of Fallouja, Iraq in January 2004, just before that Sunni-dominated city erupted in violence and changed the course of the war forever. Like Cul-de-Sac before it, Occupation: Dreamland allows the young men to tell their own stories with minimal voiceover or linear narration. It won several awards – including the Truer Than Fiction Award at the Independent Spirit Awards the day after his death – and, at least in our minds, created a template for his proposed work on the Peoples Temple story.
While I like Cul-de-Sac better than Occupation: Dreamland, I found it also compelling. The second time I saw it was in a large political science class full of students. On the big screen they could see the humorous parts – and laugh – as well as the ironic and tragic parts.
I was supposed to have dinner with Garrett that night, along with the professor of the political science class as well as two Marines who had agreed to participate in a panel discussion following the film. During the dinner, the two Marines said the film was absolutely truthful and an excellent representation of what it was like in Iraq. When they responded to questions from students at the viewing later that evening, they backtracked and said that most soldiers in Iraq weren't that uneducated or clueless. That indicates to me how accurately Garrett hit the mark.
Garrett hadn't made it to dinner or to the screening, and hadn't called with his apologies. Our concern turned to shock when we learned that he had died that afternoon. I said a few words about Garrett prior to the screening in class, but I was reeling, and felt the loss for weeks.
The world lost a great mind, a great artist, and a brilliant filmmaker, one who used movies to analyze and criticize the status quo. Everyone who knew Garrett will remember him as a warm, funny, engaged human being, and as a storyteller who held up a mirror to our foibles. And for those of us who assisted him on his preliminary work for his Peoples Temple film, his untimely death removes a real opportunity to reframe the story with nuance, texture and compassion.
(Garrett Scott died on March 2, 2006 of a heart attack. He was 37.)
Originally posted on July 25th, 2013.
Last modified on November 11th, 2018.