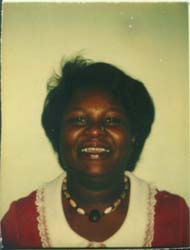 Any words of reflection about my aunt, Mary Pearl Willis, come from 28 years of stored up pain, love, and sorrow. Her death has haunted me for so long. I was a little girl when I saw her for the last time, but I can still remember it, and I can still hear that little voice inside of me saying, "You will never see her again." I still remember the exact moment that Channel 5's news ticker scrolled across the bottom of the screen delivering the most painful news that bodies had been found in Guyana. I remember asking my mother, "Isn't that where auntie is?"
Life has not been the same since then for me. One of my very first memories is running and laughing hysterically into my Aunt Pearl's loving arms as a three-year-old child, and I remember the last time she put those very same arms around me, telling me she loved me. Her death caused me so much distress, my parents wouldn't let me attend the funeral. The mention of her very name throughout these years would immediately unleash a flood of tears in me. I am now a parent, my aunt should be here to see this. This saddens me, but now, it's my turn to make things right for her. The world needs to know just how precious she was – and still is – to me.
She was – and still is – my beloved Aunt Mary Pearl Willis. That day took more from me than words can describe. A chunk of my heart is gone and I want to make sure it can be restored properly. This phase of my life is committed restoring her dignity and respect.
I have cried uncontrollably at the mere mention of Aunt Pearl's name, so writing and speaking about her is a BIG step for me. My sister asked where my strength comes from. My response is simply a strong belief that she and God are guiding me to bring her story to light and out of the darkness.
(Click here to see Mary Pearl Willis' Memorial Service program.)
(Lela Howard is the niece of Jonestown victim Mary Pearl Willis. Her complete collection of writings for the jonestown report may be found here. She can be reached at lelavhoward@gmail.com.)
Originally posted on July 25th, 2013.
Last modified on October 4th, 2018.