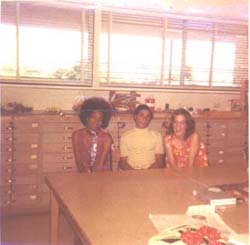 I met Rose in high school (I was in my first year, Rose was a senior), where we shared an art class. We sat in groups, and I was fortunate to be in hers along with Brenda and Clarence Ellsworth. The four of us worked as a team in all of the class projects. Rose was the type of person who stood out with her wit, bright smile, and infectious laugh. You could say she "lit up" the room.
Rose loved life and people (she had a way of making you feel as if you had known her all your life). Unfortunately the only time I spent with her was in class. She loved to take pictures of those she met and were close to, and took a picture of me, Brenda, and Clarence. The ironic thing about that picture is her straw purse was also in the picture, the straw purse she carried with her at all times (she loved that purse).
After she graduated, I lost contact with her and was deeply saddened by her sudden tragic death in Guyana. I still have the picture she took with her infamous purse. Each time I look at it, I am reminded of a wonderful person who came into my life.
Originally posted on July 25th, 2013.
Last modified on March 8th, 2014.