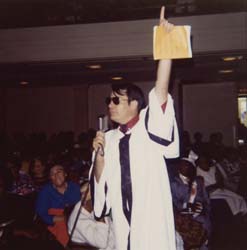 A number of artists, writers and filmmakers have, completed – or are still working on – many creative projects which consider the people of Peoples Temple and the events in Jonestown. The articles below describe those projects, introduce the creative forces behind them, and consider how they perceive their own work.
Jonestown: The Life and Death of Peoples Temple

The People's Temple

The People's Temple Looks Towards 2007, by Leigh Fondakowski
The Portrayal of a Temple Member on Stage, by Kelli Simpkins

Books and writing projects

Music & Recordings

Writing Propaganda and my work with the Jonestown Audiotapes, by Paul Steffler
Slain In the Spirit Completed, Writers Seek Backers, by Susan Yankowitz
Tracking Donald Freed and Mark Lane through Jonestown, by Michael Sheppard, Transparency

Films, Documentary, and Drama
Originally posted on July 25th, 2013.
Last modified on October 31st, 2018.