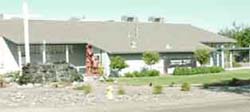 Take a ride with me going north of San Francisco. Just a couple of hours north and just nine miles past Ukiah at the corner of Highway 101 and Highway 20, we will find the rural community of Redwood Valley tucked in amongst the hilly backdrop in the heart of the vineyard country. Be sure to drive slow through the business district. It is made up of a fire station, a grocery/all-purpose store, one restaurant, a gas station and a small bank. Its acreages are spread throughout the valley, a rustic area, with the beauty of the trees and vineyards as its main attraction. On the main road just down the street a little ways you will find Redwood Valley Assembly of God, a church with a thriving congregation averaging 70 in attendance.
At first glance, the church seems fairly modest. Until a dozen years ago the church was known as the "Old Jim Jones Building." When we arrived in Redwood Valley in January 1995, we found a community with a lingering wound, a stain that wouldn't go away. It wasn't long until we met people – real people – whose lives fit into the many stories we heard about the activities of Peoples Temple. We soon realized that our assignment had as much to with healing a community as with building a congregation.
Redwood Valley and the surrounding area is still the perfect environment for the ideals of a man with a wrong agenda. It is a breeding place for many religious groups who find a tolerance in this community for any form of religious expression. It is part of what is called the "Emerald Triangle," where most of the nation's marijuana is grown. It is in this location that Jim Jones found the freedom to establish his religious cult with pictures of himself in place of God. Jones wanted to make Redwood Valley into a Jonestown.
The horror of Jonestown mass suicide shocked the world in November 1978. No one suffered more than the people– surviving family members, classmates, and friends of Jonestown victims – in and around Redwood Valley. The news was devastating. They had to deal with the deception, disappointment, and the senselessness of the tragedy. Here within this little church, where so much pain and suffering had been set in motion, was where healing needed to begin.
When I was appointed by the Northern California Assemblies of God to pastor this church, we had only 20 people in the congregation, but had high hopes and dreams of building a vital, growing congregation. My dreams, like any excited young pastor, was to build a church with children's programs, youth ministries, and community outreaches, to marry and bury, to visit and teach people, and to grow right away. It wasn't long before we were struck with the realization that the very facility in which we met was a constant reminder of its horrid past, that this was a community with a bruise still tender, and with memories still fresh in the minds of people who lived here.
I would never have placed myself in this spot if I had known the trials and pain I would endure here. Rejection, deficiency, discouragement, death and despair are not my idea of terms I would use to grow a church. But these were the conditions that I faced when we arrived in Redwood Valley. I never fathomed that such a beautiful place would have such shadows. Many of the very people I met in hopes to encourage and offer hope were the same people who rejected us or the same people who I would later find myself with at the funeral home making arrangements with, after the death of a loved one.
So we got busy. We began turning this eyesore into a place of beauty. We cleaned, painted, remodeled, landscaped, planted trees, and sealed the parking lot, but still we did not grow. We had special services with exciting music, youth outreaches and still we only grew a little. We had children's crusades and young adult events. We tried small groups and dinner fellowships, recreation, camp-outs, and more. We even prayed, but still no breakthroughs. We knew we were dealing with a major offense against this community and against Christianity.
How can you grow a church with such an offense, I wondered? Could anything wash away such a stain, a twenty-year-old stain, so bad, so dark? Then I was impressed with the thought: "This facility had never had a cross on it." With further inspiration we did one of the greatest things only God could think of. We placed a cross on the property tall enough and so brilliantly displayed that people would no longer notice the building—only the cross.
The breakthrough we were looking for seemed to be happening. In November 1997 we had a special dedication and Open House Sunday called "Raise the Cross Sunday." We sent out 16,000 fliers inviting former Temple members, Bonnie Thielmann and Timothy Stoen, civic leaders, and area pastors. Sixteen pastors came to show their support of a dream to see a community healed of this awful pain. This was a beautiful day and a powerful statement to the community that faith in Jesus truly can remove a stain, not only on a facility, but also for the hurt and brokenness in one's life. It has been awesome to hear people now refer to the facilities as the "Church Where the Cross Is" instead of as the "Old Jim Jones Building." What was once a place used for selfish ambition is now a place of redemption.
The ministries are growing now, not free of trials, but pleased we are able to say, God is redeeming this community. The Children's Church with life-size Vegi-Tales painted on the walls is attracting many children. The Student Ministries is thriving with teenagers. The adults are experiencing a safe place for themselves and their families, a place that feels like a sanctuary.
The facility looks attractive both inside and out. The landscaping has been beautified, and it now draws honor and respect from people throughout the community. It is a growing church and gradually fulfilling the dream we had upon first arriving at the beginning of 1995.
We realize that cynicism and distrust are embedded in the hearts and minds of some of the people towards the church and our effort here. Even though many attempts were made over the years to occupy the building with different businesses, nothing really helped the people forgive and forget. In my first year one lady came and asked me directly why we didn't burn the place down. She felt so deceived and angered, that she couldn't believe anything good could come from this place until… until one day she spent time in the building and felt something inside her change. After some time walking through the sanctuary, she came to me crying and said, "I feel God in here, I believe He met me here, I found closure today, this is a real sanctuary." This lady and others like her have experienced a change, a new trust and forgiveness in their hearts and minds. People are letting go of their memories of hurt and pain, they are feeling set free whether it pertains to Jim Jones or other issues of their past. A new hope is arising in this community. This size of deception, hurt and pain takes time and patience to heal, but for the love of those who lost their lives and for those who live, I pray this will be a new reminder that faith in God still changes lives.
People drive by, honk their horns, wave and tell me later, "Good job! We like what you're doing, we love this place, please keep it up." It takes someone who cares to come here and stay. It takes someone with a right agenda to hear the painful stories, weep with people, and absorb the hurt and pain. It takes a level of maturity and fortitude to give people room to heal. That is what I have been doing for almost twelve years. I have watched the miracles and I have seen the healing. I know it works!
Now, as you drive by the little church down the road on a typical Sunday morning, you will see children playing and laughing out on the front lawn. You will hear laughter and feel joy as you enter the building. You will join with others sharing in fellowship and you will see an eighteen-foot cross with a beautiful fountain beside it signifying that all things are possible through Christ.
We go forward with the continued dreams of healing a community and growing a congregation. The need here is great, but God is greater.
(Rev. Harvey is the pastor of Redwood Valley Assembly of God. He may be reached at kharvey@redwoodvalleyag.org.)
Originally posted on July 25th, 2013.
Last modified on February 19th, 2021.