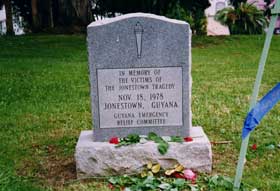 The annual memorial service at Evergreen Cemetery will begin at 11 A.M. on 18 November 2004. Pastor Jynona Norwood will preside. The cemetery is located at 6450 Camden Avenue, Oakland, California. For more information, contact Pastor Norwood at drnorwood@jones-town.org, or call (310) 419-3930.
For the second year, the California Historical Society will host a special day at the library for former members and relatives to view the Peoples Temple photography collection. The date for this year's opening is Saturday, November 20th, 2004. CHS is located in downtown San Francisco at 678 Mission Street, San Francisco, California 94105. For more information, contact Mary Morganti, CHS Director of Library and Archives, at 415-357-1848 x242, or mmorganti@calhist.org.
Originally posted on July 25th, 2013.
Last modified on March 12th, 2014.