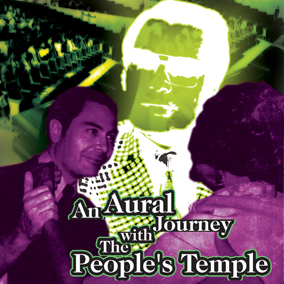 I recently had the opportunity to experience the good intentions of a misinformed staff at eBay. I now question how eBay can – or even attempt to – effectively police items that are deemed undesirable by their listing guidelines. I also wonder what broader issues this raises about censorship issues in commercial cyberspace.
It started about 18 months ago when I was compiling audio for the CD An Aural Journey with the Peoples Temple. I decided I wanted to make the cover art from some of the images I had from a Peoples Temple promotional kit (that I had ironically acquired from eBay about four years ago). I initially just made it for myself and planned on giving a copy to a friend who was interested.
I ended up writing a small piece for last year's edition of the jonestown report, explaining what I had done, why I had done it and how people could purchase the CD if they were interested.
A short while later I decided to try and sell the CD on eBay. I hadn't sold many items on eBay before but figured I could at least list it because I had seen similar items on eBay. Indeed, I had purchased a number of Jonestown-related CDs (before discovering the Jonestown Institute cassette archive) and had been disappointed to find that most of the CDs just contained the "Death Tape" and/or excerpts from the NPR show Father Cares.
With the audio portions of the CD that I had assembled covering much more of the Jonestown experience, I thought I had a better – certainly more representational – product than the ones I was always seeing for sale on eBay. The same was true of the art. I made a point of stating in the listing that some of the images in the art work were relatively rare. I hadn't even seen any of the images when I was going through the media archives at the California Historical Society.
Over the course of seven months, I sold about 15 CDs for $9.99 including shipping. After subtracting the cost of supplies and eBay fees, I wasn't exactly going to retire early with the net profits.
In late April, eBay sent me an email that stating that my Jonestown CD auction had been ended early and my listing fee had been credited back to my account. It gave a very vague reference to the fact that my CD didn't conform to eBay's selling standards. Whether eBay discovered this through their own devices or following a complaint about my item was not made clear.
It did give a link to a section called Prohibited and Restricted Items-Offensive Material. The policy can be found here. The only part that I felt pertained to me was this:
eBay may also, in its discretion and out of respect for the families of murder victims, remove listings of items closely associated with individuals notorious for committing murderous acts within the last 100 years, such as personal belongings of such criminals, letters or artwork created by such criminals, or novelty items that bear the name or image of the criminal.
My CD artwork does have pictures of Jim Jones, but does that qualify it as a novelty item? I wasn't selling a piece of Jim Jones's shirt, or a sign from Jonestown. More importantly, what separated my CD from books, other CDs, albums, and pictures related to Jonestown and Peoples Temp le that have been sold on eBay and continue to be sold on eBay to this day?
eBay's policy regarding prohibited items included an appeal process. I filled out a web form and submitted it online, asking how my CD fit the criteria of Prohibited Items. I asked them to explain how my CD was offensive if they had never even heard or seen it.
The first response I received didn't answer any of the questions I had raised. In my reply, I asked them again to explain exactly why my CD was removed and how it fit into their prohibited items.
After about a week I received a response. I was told my CD was removed because it contained a recording of the mass suicide in Jonestown (otherwise known as the "Death Tape"). I found this VERY frustrating since my CD doesn't contain anything from the recording in question.
eBay obviously didn't know what they were talking about. If they had read the listing, they would see that it specifically states that this CD doesn't contain anything from the Death Tape. Indeed, my CD was one of the few that didn't contain the Death Tape.
I wrote back and explained that my CD didn't contain the item in question. I also asked why other items that did fit that exact description were still being sold on eBay. The response repeated their previous statement: they felt my listing fit into their prohibited items, and they proceeded to quote their policy.
In regard to other items on Ebay that contained the "Death Tape," I was told this:
When a violation has been committed we will take the appropriate action for that item. There will be times when offenders will slip by because they have not been reported to us. Please note that even if some sellers are currently in violation of eBay guidelines this does not lessen the seriousness of the violations for those sellers whose auctions have been reported to us. However, since we only actively monitor our site for certain questionable or prohibited items, we rely on our members to report others to us. This is also why it is always best to base your listings upon eBay's policies and not upon what you see other sellers doing. It is my pleasure to assist you. Thank you for choosing eBay.
Three years ago, I purchased a CD from eBay that contains the Death Tape. It is still being sold to this day. This CD also has a picture of Jim Jones on the cover. The CD excerpts the NPR show Father Cares, and the seller has even taken the time to copyright this material in the liner notes. The seller usually has three or four auctions of the same disc at any given time. How has this CD slipped – and continues to slip – through the cracks of the eBay labyrinth, when my more limited effort didn't.
I have decided to stop corresponding with the "concerned experts" at eBay, in part because I was informed that if I continue to sell items that are prohibited I could be banned from selling anyitems on eBay. Ironically, eBay continues to collect its fees on all items that are sold whether or not the items are deemed prohibited after the auction has ended.
I understand that it is nearly impossible to police the four million plus items that are on its website at any given time, but I really question how hard eBay tried to police themselves before people started complaining about questionable items. I feel eBay's enforcement of its policies is made up of shades of gray, selective inattention, and an unhealthy dose of apathy and ignorance.
(Brad Elliott is a video editor who was born and raised in Minneapolis. He is married and enjoys collecting music and photography. He may be reached at brad.elliott@medialoft.com.)
Originally posted on July 25th, 2013.
Last modified on March 12th, 2014.