In the past year, our efforts at the California Historical Society (CHS) have focused on the preservation, identification and processing of thousands of individual portrait photographs within the Peoples Temple collection.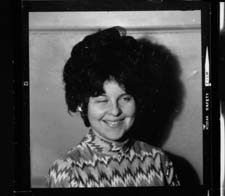 Just under 4000 of these images are small (1.5″ x 2″) color photographs that were taken in the mid-1970s for Temple membership cards. Many of these images included the person's name written on the back of the photograph. Occasionally, the text includes an address, a date or an amount of money paid. The Peoples Temple collection at CHS also contains samples of the laminated membership cards.
More than 7000 images taken in the mid- to late-1970s make up the passport photograph component of the collection. These images vary in size and quality, as many of them are contact prints. Approximately two-thirds of the images were labeled with the person's name on the back or on an envelope containing the image. Since 2001, former members and relatives have identified hundreds of these images. Several hundred remain unidentified.
Each set of the identified photographs was alphabetized and placed in archival photograph sleeves. These two groups of photographs are now housed in 22 acid free albums. As more images are identified, they will be incorporated into the albums. Ongoing volunteer efforts include identifying and processing of the thousands of negatives also included in the collection.
For the second year, CHS will host a special day at the library for former members and relatives to view the Peoples Temple photography collection. The date for this year's opening is Saturday, November 20th, 2004.
Researchers interested in more information about the images in the collection may contact the reference desk at CHS either by telephone or email. The California Historical Society is located in downtown San Francisco at 678 Mission Street, San Francisco, CA 94105. The North Baker Research Library is open to the public Wednesday through Friday from 12:00 pm to 4:30 pm. Appointments are not required, but due to the limited amount of seating in the Reading Room, researchers are encouraged to email or call ahead if they would like to discuss their research prior to visiting or to reserve a seat. Contact the Library at reference@calhist.org or call 415-357-1848 ext. 220.
(Denice Stephenson is a volunteer at the California Historical Society, which is the chief repository for materials related to Peoples Temple. In addition to photographs, these materials include organizational and personal papers, legal documents, financial records, and audiotapes.)
Originally posted on July 25th, 2013.
Last modified on March 13th, 2014.