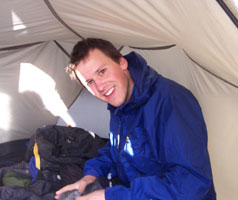 Here's something I do when I'm working on a story: Timelines. I find them useful, particularly when the topic I'm writing about has a complex chronology, a number of important characters, parallel storylines, etc. Sometimes I do it pretty sloppily, scrawling half-readable notes across multiple pages in a pocket-sized moleskin, linking them up with a tangled polychrome of lines and arrows. Other times I go about it more formally, tearing massive sheets from an easel pad and taping them to the walls, drawing thick lines in permanent marker that stretch from the window near my desk to the bookshelf on the far side of the room. When I go this route, the office acquires the feel of a war room or a madman's cell. I enjoy scribbling my notes and conjectures directly onto the walls – it makes me think of Russell Crowe's mathematics savant character in A Beautiful Mind – and when I stand back to admire the resulting tapestry of information. . . well, it's easy to imagine that I'm really getting something done.
I've been scribbling on the walls quite a bit recently, working on a story that traces the history and significance of the record album He's Able, recorded by the Peoples Temple Choir in 1973. I've got three timelines going. The first one traces broadly the chronology of Peoples Temple, beginning with the establishment of the church in 1955 and running through the San Francisco public auction of Peoples Temple assets in 1979. I've liberally copped most of the dates and events from secondary Peoples Temple literature. The second timeline is the real work-in-progress, a list of important dates in the development and epilogue of the He's Able record itself. It begins in November of 1963, with a young man traveling from Indiana to California to play in a band. It ends (for now) in the mid-1990s, with the underground CD re-release of He's Able by a shadowy industrial-music bootlegger called Grey Matter. In between, I'm gradually filling in details and dates as I search through old materials and have the pleasure of speaking with former Temple members, recording studio staff, and others who were involved with the record over the years.
The third timeline documents exactly that process, tracing the course of my research. It begins where my interest in the music of the People Temple begins, on a snowy night in January of 2006, when I scramble into the Guthrie Theater in Minneapolis with two minutes to curtain, clutching a press pass and wondering whether I'll make it out of Leigh Fondakowski's The Peoples Temple with enough time to swing by the liquor store. By intermission, the liquor store is forgotten, and I am swept up in the phenomenal staging of a story I thought I knew. It's during this intermission that I first take notice of the music, as the play's first act ends, as I recall, following an upbeat gospel number. I don't know which one – getting a hold of a script from the Guthrie is on my to-do list – but I think it may have been "Something Got a Hold on Me." If you're reading this, chances are you know the song, an old spiritual about a nonbeliever at a revival meeting, and catchy as hell. And what's amazing is that the audience at the Guthrie, knowing full well how the final scenes are going to play out, nonetheless gets totally swept up in the thing. They float into the lobby afterwards, heads bobbing and humming merrily to themselves, as if it were intermission at a Rodgers and Hammerstein musical.
The next hash mark on my timeline is a full year later, an afternoon this last February when I buy a ticket to see Jonestown: The Life and Death of Peoples Temple at the Big Sky Documentary Film Festival in my current home of Missoula, Montana. There, in the background of several of the film's montage segments, I hear the same music that had impressed me a year earlier. Except that these tunes aren't being performed by actors or a contemporary choir – they're wrapped in the soft, warm hiss of vintage vinyl. Hot damn, I think, they've got this stuff on wax!
Seven days and sixty (eBay) dollars later, I'm listening to this far-out record in the comfort of my apartment. It's got a great blue-eyed soul feel to it, a full choir backed by an earnest funk-rock band and some sharp, minimalist brass. The sound is sort of Harlem-Gospel-Choir-meets-early-Doobie-Brothers – particularly if maybe the Harlem Gospel Choir had more white people in it. And the super intriguing thing about it is the immediacy with which it conveys what the three-hour play, the hour-and-a-half-long movie, and god knows how many books and articles and papers have tried to convey with less success – that is, the sincerity and positivity and dynamism of those people right there, right then, in Peoples Temple in California in the spring of 1973.
* * *
Here is something I'm having a hard time not doing while working on this essay: Giving away too much, too soon. It's immensely tempting to include thoughts, scenes, and details here that I really ought to save for the work-in-progress. So I beg your pardon for devoting my remaining space to a small point about the items that comprise the last six months on my research timeline.
The timeline begins in earnest not long after I hear the album. A long Greyhound trip to San Francisco in late March. Three days in the capable hands of research librarians at the California Historical Society. Another day visiting Peoples Temple and He's Able landmarks on a rented and hopelessly unreliable bike – the monument in Golden Gate Park where the cover photo was shot, the address where the record jacket suggests the album was recorded (though, in fact, it wasn't).
Then, throughout the summer, a meandering chain of phone and email conversations with key characters from the album's history. These include some fairly predictable contacts: several former Temple choir members, a former musician from the Temple band, the editor of this journal.
But there are others: a washed-up disco magnate who once haunted the studio where the album He's Able was cut, a then-lowly recording engineer who worked the night shift to mix and record the album, an itinerant British performance artist with a Jonestown fetish and ties to the Grey Matter re-release, multiple former bandmates of a Temple member central to the album's production. And on and on, a series of contacts, each of whom seem at first blush to live distinctly outside the Peoples Temple narrative, but each of whom, in fact, possesses some very significant connection to it. Each conversation leads to still more, until I've eventually spoken with nearly everyone on my "wish list."
If there is one thing that has struck me thus far in my He's Able research – other than the remarkably gracious manner in which I've been treated by everyone with whom I've spoken – it is the varied and limitless nature of this web of contacts. There is an undeniable mark that the Temple has left on, not only its members and their families, but scores of tangential characters in the Peoples Temple story. I find it telling that I've had not one conversation on this topic in the last six months that hasn't ended with a comment along the lines of, "While I can only tell you such-and-such, you really must speak with So-and-So . . . ." The human networks that support our shared stories are vast beyond our imagining.
* * * * *
Here is something I like to use on my timelines that illustrates the point nicely: Thumbtacks. And string. When two events on two separate timelines strike me as having some important relationship to one another, I insert a thumbtack near each of the relevant hash marks and tie a piece of string between them. Say the recording engineer who worked on He's Able is hired at roughly the same time as the church relocates to Redwood Valley. Each event gets a thumbtack, conjoined by a piece of string. Say I speak with a He's Able bootlegger next month and would like to link the date of the interview to the year he first acquires the record. Two more thumbtacks, another length of string.
But the thumbtacks and the strings are only temporary – I add and remove them at will, depending on where I need to remind myself of some connection. All that is permanent are the myriad pinprick holes left behind like paint flecks on the white plaster wall. When I take down the paper timelines – as I sometimes do – I see the scatter of tiny punctures, a record of the infinite disordered moments that make up a history. I see a complex matrix of people and relationships and events that coalesce to tell the story of Peoples Temple. It's a confusion of black dots against a white field, and it looks for all the world like an inverted galaxy.
(Brian Kevin is a graduate student studying Creative Nonfiction at the University of Montana. His work has appeared in a number of disparate publications, including The Humanist, Paste, and The High Country News. Brian would like to offer sincere thanks to the folks who have spoken with him about He's Able over the last year. He can be contacted at brikevin@gmail.com.
( He's Able is on the web, including the lyrics and downloadable mp3 files. Visit  http://blog.wfmu.org/freeform/2006/02/he_was_able_mp3.html.)
Originally posted on July 25th, 2013.
Last modified on March 3rd, 2014.