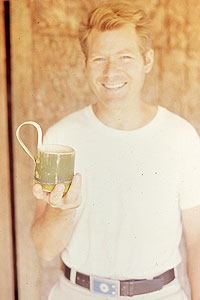 Tom Grubbs was a fine man. He always spoke his mind about things and in fact was reportedly a thorn in the side of Jim Jones down in Jonestown, in that Tom always questioned things. He was a man of integrity and had great patience with children, absolute essentials in a teacher. He knew – and was learning more – about how to diagnose learning problems and then helped his young students to find ways to overcome their difficulties. He was particularly able to draw students out to try different ways and to keep trying until they could do well.
Tom was a persuasive and charming person. Part of his charm was that he was completely sincere in all he said and did. He spoke about learning much about self reliance as he grew up, how his family had worked through some hard times, but always managed to make things work out. His optimism always seemed to lend a sense of confidence and good feeling to those around him.
When I met Tom, I too was a teacher. I had taught 10 years in Kindergarten and First grade. Tom was an elementary school teacher and worked in Willits with children with learning disabilities. In June 1976, he and I made plans to go down to Guyana to work with the children who were there. There were about 40 people in Jonestown at the time, including about a dozen children from 5 years to 17 years old. Many of the children there were ones who had had much trouble in the urban setting in the States but seemed to flourish more in the tropical rainforest without as many distractions. Along with several trunks of school books and supplies, we had been dropped by the Temple bus at Kennedy airport to fly to Georgetown. We found out that we were going to have to pay extra for the trunks, and we didn't have enough money for it. Tom was able to talk the airlines into "donating" the cost.
The project in Guyana was in its third summer. In addition to constructing the buildings which would house the peoples, the workers in Jonestown were already engaged in farming and raising animals such as chickens and pigs. Tom had a way of adapting his teaching so that it would apply the lessons of the larger projects to the work the children were doing: growing plants, raising animals and so on.
At the end of the summer, Tom wanted to return to do more studies in Special Education. But he stayed and I came back to Ukiah. He was a more experienced teacher, with an administrative credential as well, which is why I believe he ended up staying down there. He was headmaster of the Temple school program and wrote most of the planning and curriculum that was set up. We qualified through what he had set up to become part of the Guyanese school system.
Tom's influence had a lasting mark on me for the balance of my teaching career. I went on to study Special Education, certainly for myself but partly for him. In that way, the impact of Tom Grubbs's life has survived to this day.
(Don Beck was a member of Peoples Temple for ten years. He directed the Peoples Temple children's choir during its Redwood Valley years and made several trips to Guyana during its pioneer days. Beginning about 20 years after the tragedy, shortly after this site went online, he became one of its most dedicated researchers, transcribing Edith Roller journals, reviewing and analyzing Jonestown records released through the Freedom of Information Act, and compiling them for the first section of documents on the Jonestown Research page. He also contributed numerous articles and remembrances. Most of those writings may be found here.)
(Don died on July 9, 2021, following a lengthy illness. He was 78.)
Originally posted on July 25th, 2013.
Last modified on July 24th, 2021.