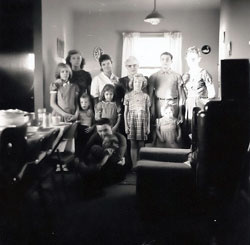 Edith Cordell was a sister to my dad's father. When my dad Eugene was born, his biological mother was only 17 and ill. Unable to care for her three sons, she left Eugene with Edith and his grandparents.
Edith never married, though she loved children. She lived in Indianapolis with her parents until their deaths, and stayed in the same home until she moved to California with Jim Jones, in the 1960's. My aunt also cared for two other children, and eventually adopted my aunt Carol Ann (who also died in Jonestown) and then also legally adopted my dad, Eugene, her nephew. My siblings and I did not consider Edith to be our great-aunt. She was our Grandma DeeDee.
Grandma DeeDee was a very clean, neat and tidy person. Her home was always immaculate. I remember her being strict: "don't touch the walls", and "don't sit on the beds". I guess she just did not want to do any extra cleaning. She would have dolls all dressed up in lacey dresses that she would place on her beds. Until 1959 we lived just around the corner from our Grandma. We saw her probably every day. She worked at a government job during the daytime.
We occasionally ate at her house. She expected you to eat all of the food you put on your plate. I would say that she was pretty strict. I recall one morning at breakfast she expected me to eat something that I did not like, and I told her so. She forced me to eat it anyway. I became sick and actually was vomiting. I could not go to school that day. I also recall another time when I was probably around 10, when I thought I wanted to run away from my home. I thought I could go to Grandma DeeDee's, but then I thought that she would just bring me back home, so I decided to just stay home.
We went to church with our Grandma at Peoples Temple in Indianapolis. She liked the church and the preacher, Jim Jones, too. He had monkeys, and my grandma made clothes for these monkeys. She always dressed my aunt and the other little girl that she kept, real fancy. They always had full skirts and ruffles and lace. The girls all had their hair with the long Shirley Temple curls and not a hair out of place.
As far as we know, Edith never did marry and mostly lived alone after leaving Indianapolis. She sent a few letters after moving and told us that she was keeping a little girl. She sent a picture of herself and the little girl.
Eventually, my Aunt Carol Ann also left Indianapolis, along with her children and her husband. This was just devastating to our family. Carol Ann was like a big sister to me. I would go and stay at her house and help take care of my four little cousins. It hurts so deep that those four children also died in Jonestown during that awful day. Our family was a tight-knit family and these losses broke us all to pieces. I loved them all and will never really understand why this all had to happen. A nightmare we never want to have repeated.
Why, Grandma, did you leave us all?
(Donna Cordell lives in Indiana. She can be reached at IndyDo@aol.com.)
Originally posted on July 25th, 2013.
Last modified on March 4th, 2014.