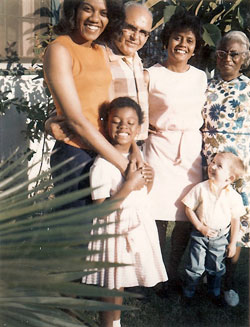 Lovie De Pina: known to her four children – me, my sister Evelina, and my two brothers Michael and Anthony – as "Mamma;" known to her grandchildren and great grandchildren as "Nana".
Lovie: what a great name for her. She was the epitome of love and sweetness. She and her husband Miguel were together over 50 years and would never do anything that would cause the two of them to be separated. She was such a blessing to her family and everyone she came in contact with.
Remembering her brings memories of love, wise instruction, big bear hugs, and good food. She was the BEST cook. Born in South Carolina and raised in Georgia, she cooked everything to Southern perfection. She loved feeding anyone and everyone. I think of the apple dumplings, biscuits, cake, the greens and so much more. Whatever she cooked was beyond delicious.
She was small in stature, but had endless energy.
She was the best wife to my father, the best mother to her children, and the best grandmother to the next generation. She especially loved children and babies. She became a foster parent and took in many children over the years, getting attached to all of them and treating each one as a family member. While the children were in her care, they were loved deeply and given lots of TLC. She always grieved when they were reunited with their parents or adopted. There was nothing that made her happier than to cuddle and care for children and babies.
She loved to go to church and had been a Christian since childhood. We learned from her that love is an "action" word. We will forever miss her loving, kind, sweet ways and her proverbial, encouraging sayings.
Knowing her as well as we did, nothing could convince us that she willingly drank anything or did anything that would cause her to abandon our father. At the time Mr. Ryan arrived in Jonestown, our father was in the hospital in Georgetown. We know that she died with a broken heart.
We will forever love and miss her.
Originally posted on July 25th, 2013.
Last modified on March 4th, 2014.