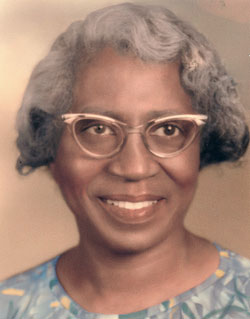 Lovie De Pina was my grandmother, my "Nana". I thought she was the greatest person God ever put on this earth. There was no one like her, truly a gift from God. When I was a little girl, I swore I would have my grandchildren call me "Nana". If I thought that would make me just like her, I was wrong. I am Nana to my grandchildren, but I can't fill those shoes. There is no one like her.
My grandmother was so many things to so many people. She was a wife, mother, grandmother, aunt, cousin, foster mother, friend, neighbor, mentor, advisor and confidante. She was loving, outgoing, fearless, compassionate, energetic, dynamic, supportive and nurturing. I wish I could explain what an exceptional person she was.
When my brothers and I were growing up, Nana and Grandpop were always there for us and so many others. There are so many good memories of those days, truly the good old days.
Nana always had good food cooked and ready to eat. We never found empty pots. We could order things like apple dumplings, sweet potato pie, or a spinach omelet, and Nana would fix it. In addition to the good food, there was always someone dropping by. Everyone liked going to her home.
Nana was a person you could talk to about anything. She was a good listener, understanding and compassionate. Even if she disagreed with your point of view, she did it in a manner that left you feeling she wanted the best for you and was willing to help you do the right thing.
People who came in contact with her fell in love with her. She could get along with anyone, anywhere. She knew people from all walks of life. When they visited her, it was obvious she had made a positive impact on their life.
We had the original "rainbow coalition". It wasn't just our family that had so many good times, there were many who were not family members who considered our home a gathering spot. It was always full of warmth, love and caring.
As a child I went to church with her. She loved the Lord and was a woman of deep faith. Prayer was heard throughout the day. She could be cooking or cleaning, and you might hear a prayer.
Nana loved children of all ages. She opened her home to foster children and cared for them as if they were her own. She was once attacked by a biological mother who kidnapped her child. Even though she was stabbed and cut, this did not deter her from continuing to care for children. She was a woman of faith.
Nana left California believing she was going to a place that was beautiful, uncrowded, crime-free. She thought she and my grandfather would live the rest of their lives in an atmosphere of love and peace. She also thought her family would be free to visit them there. Once they arrived, it was clear they had made a mistake. We did not learn of their departure until after they were gone because everything was so secretive. Mail was monitored and corrections made to outgoing mail. They were told to write home to ask for money and various other items. My mother tried to get help from the State Department, but she was unable to locate anyone willing to help her. Then came November 18, 1978. Doomsday.
I really wish people would not call it suicide, call it what it really was: MURDER!
I will always love and remember my Nana, my blessing.
Originally posted on July 25th, 2013.
Last modified on July 23rd, 2019.