Almost 30 years after the deaths in Jonestown, Peoples Temple continues to make the news. The following is a summary of news stories from late 2006 through October 2007 related to Peoples Temple and Jonestown.
One of the most prominent news stories in the last year about Peoples Temple and Jonestown was the coverage from Monroe, Louisiana on the efforts of Lela Howard to locate the grave of her aunt, Mary Pearl Willis, who died in Jonestown. Ms. Howard's story appears here. Articles from the News Star of northeastern Louisiana about Ms. Howard's campaign appear here. A photo gallery of the installation of a headstone for Mary Pearl Willis appears here.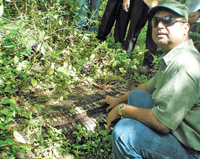 Guyana's Minister of Tourism, Industry and Commerce Manniram Prashad brought Jonestown to the front pages of his nation's newspaper on August 9, 2007 when he led a delegation to the overgrown Jonestown site to determine whether it could be developed and opened as a tourist attraction.
Hrag Yedalian has completed his film on the life of Charles Garry and is in the process of raising money for its distribution. Garry, a strong defender of civil rights and liberties in the Bay Area during the 1960s and 70s, represented members of the Black Panther Party and prison inmates on death row, but he is remembered most for the client that led to the end of his career: Peoples Temple and Jim Jones. Garry was in Jonestown on November 18, 1978, but survived the deaths when he and Mark Lane were taken to the East House for their safety.The film, The People's Advocate, which has been shown in several film festivals, won the 2007 Bay Area Video Coalition Mediamaker Award.

The IMDb description of the film, including a listing of interview subjects, appears here. An article about Yedalian's work appeared in last year's jonestown report.

Stanley Nelson's film, Jonestown: The Life and Death of Peoples Temple, was considered for an Academy Award nomination for Best Documentary Film of 2006 and made the Oscar shortlist of 15, but was not among the five chosen for final consideration. In addition, the film – which had originally been produced for broadcast on the PBS series American Experience – was nominated for a Primetime Emmy award in the "Exceptional Merit in Nonfiction Filmmaking" Category.After a limited run in movie theaters around the country, the Nelson film premiered on PBS in April.

The American Experience website page for the documentary is here. The transcript of the film appears here. Other coverage includes a February 12, 2007 article in The San Francisco Chronicle.

Coverage of the film, including reviews, from the 2006 edition of the jonestown report appears here.

Jonestown: Paradise Lost, a docudrama that made its world premiere on Canadian television earlier this year before being shown on The History Channel in the US, earned one of the top prizes at this year's Banff World Television Festival in Canada. The feature-length production, co-produced by Montreal-based Cineflix, received the Playback Best Canadian Program award during ceremonies in June. Jurors praised the film for "retelling an already well-known story with powerful interviews and brilliant re-enactments."On October 12, the film was chosen as one of four nominees for a 2007 Grierson Award   for "Best Drama Documentary." The awards will be announced in London on November 23.The coverage of the film from the 2006 edition of the jonestown report appears here.

Online reviews and news coverage include:

"Jonestown": If all docudramas were this good … (search for "Barnhart")
by Aaron Barnhart, January 12, 2007

Clocking a Cult's Final Days in Jonestown
by Ginia Bellafante, The New York Times, January 15, 2007

Jonestown revisited
by Rob Salem, The Toronto Star, March 7, 2007

The Son Who Survived Jonestown
by Bill Brownstein, The Montreal Gazette, March 9, 2007

You think your family was screwed up
by Ron Csillag, Dallas News Religion, March 21, 2007

A review by Bob Helms, who worked on an earlier incarnation of the film, appears in this year's jonestown report.

In early September, Hollywood buzzed with the rumor that James Gandolfini, who just completed a run on the HBO series The Sopranos, had agreed to play the role of Jim Jones in a miniseries about Peoples Temple to run on the same cable channel. There has been no additional   news since the first few days, and one source with connections to HBO said the rumors were unfounded.


James Gandolfini Can Be Very Persuasive
Janet Charlton's Hollywood, September 11, 2007

People: From "Sopranos" boss to cult boss Jim Jones
The Denver post, September 13, 2007

A production of Jonestown: The Musical opens at San Francisco's El Geronimo Theater in November.A review of the self-described "dark musical comedy," which premiered in 2004 in New York, appears here.
Rob Jones, the son of Erin and Jim Jones Jr. and grandson of Jim and Marceline Jones, was awarded a basketball scholarship at the University of San Diego, where he will play for the Toreros. Rob was the subject of a documentary on ESPN in October. An article by Jon Fish, the producer of the ESPN piece, as well as links to other coverage of Rob Jones, his parents, and the Jonestown basketball team, appears here.

A year after she lost her bid for the Democratic nomination for the office of Lieutenant Governor in California, former State Senator Jackie Speier has accepted a job at the San Francisco law firm of Hanson, Bridgett, Marcus, Vlahos & Rudy. She now works in the firm's public agency practice division. She has also written an autobiography entitled This Is Not the Life I Ordered.Sen. Speier came to national attention during the Jonestown tragedy of November 1978. As a legislative assistant to Rep. Leo Ryan who accompanied the congressman on his trip to Guyana, she was severely wounded at the Port Kaituma airstrip during the attack which killed Ryan and four others on November 18.

A retrospective article on her political career appears here.

Plans to produce a documentary about Speier's life – reported in last year's edition of the jonestown report – were dropped when she decided that such a documentary would be inappropriate.

The Peoples Temple sign that hung on the Geary Street building in San Francisco was auctioned off on eBay earlier this year. A story about the auction appears here.
In addition to news articles, Jonestown and Peoples Temple is often mentioned in the mainstream media both as cultural icons and in serious considerations of religious issues.
Jonestown in cultural references
We can see clearly now — to eat
by Phil Wielan, Munster (Ind.) Times, December 12, 2006
Jonestown in serious articles
Jonestown tragedy had liberal roots
by Mike Bates, November 17, 2006

Conviction offers chance at fresh start
Editorial, East Valley (AZ) Tribune, September 27, 2007
(Editorial on conviction of Warren Jeffs)

The Guru is Dead. Long Live the Guru: re spiritual teachers still valid in the modern age? (Search for "Kain")
by John Kain, Common Ground Magazine, October 2007

GOP Presidential Debaters & The Wizard of Oz
by Ed Tubbs, OpEdNews, October 11, 2007
Other Guyana perspectives
Disbelief in his hometown
by Letta Tayler, Aviation Pros, June 4, 2007

LINDEN, Guyana – To Christians as well as Muslims in this scrappy mining city, former Mayor Abdul Kadir was far more than a politician. A spiritual leader and mentor, he went out of his way to help denizens in greatest need. Yesterday, Linden and the rest of Guyana were reeling from the news that Kadir might have yet another persona — a terrorist wanna-be plotting to blow up Kennedy Airport… As the case unfolds, many citizens were cringing from their return to the world spotlight after the Jonestown massacre of 1978, in which more than 900 men, women and children died in a mass murder-suicide instigated by cult leader Jim Jones. "First Jonestown, and now we are being compared to Middle East terrorists," said one shopkeeper.
Originally posted on July 25th, 2013.
Last modified on December 26th, 2022.