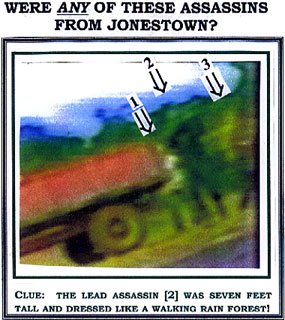 Introduction
In all the years following the Jonestown Tragedy, no one but me has ever even suggested that it may not have been Peoples Temple who killed the congressman. I've not only suggested it – I've claimed it.
But to have now surfaced proof with the chance to revise, not simply revisit history, is a landmark breakthrough that goes well beyond me, as was always the intent.
This investigation will examine that proof, as well as to weave it into the largely-hidden context of that time.
As always, any breakthrough on this subject is still tempered with sorrow; yet given a scenario that so boggles the mind both then and now, any clarity might still be counted as a gift.
Note:  None of the "In Plain Sight" project is directed to, nor is in any way intended to exonerate or exculpate Jim Jones for the mass deaths at Jonestown.  "In Plain Sight" is solely directed towards determining who killed the Congressman at Port Kaituma based upon primary evidence that was suppressed at the time.  The sources of that primary evidence were/are NBC and the FBI, not this researcher.  This is simply the first examination ever of those materials."
Originally posted on July 25th, 2013.
Last modified on August 21st, 2014.