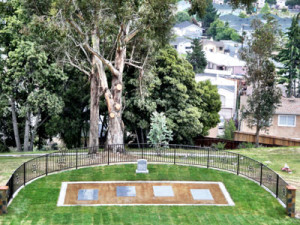 There will be two gatherings to memorialize everyone who died in Guyana at Evergreen Cemetery on Sunday, November 18, 2012. The cemetery is located at 6450 Camden Avenue, Oakland, California.
The first will begin at 11 A.M., when Pastor Jynona Norwood will preside over the 33rd Annual Memorial Service. For more information, contact Pastor Norwood at drnorwood@jones-town.org, visit her website, or call (310) 419-3930.
Many survivors and family members gather for a second service at 3 p.m. to spend time with other loved ones and share some treasured memories of those who lost their lives on November 18, 1978. This is a casual gathering with no planned program. All survivors, family members, and close friends are welcome.
Everyone in attendance at this service (and even those who cannot attend) will be invited to gather at a nearby restaurant afterwards for conversation and reflection. Contact Laura Kohl for more details on the post-service gathering.
Originally posted on July 28th, 2013.
Last modified on February 27th, 2022.