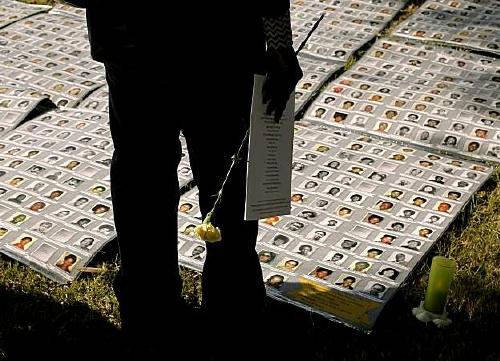 (This is an edited version of the remarks Kathy Tropp Barbour made at Evergreen Cemetery on November 18, 2009. She was alone when she spoke them, but she was in the presence of the 409 people buried at her feet and to the 914 members of Peoples Temple who died 31 years earlier.)
My dear family,
Thirty-one years ago you left me. You have been with me ever since.
It is 31 years since you died. I was 31 then, and I'm 62 now, so half my life has been lived since that day.
The event that took you in agony to the other side has yet to be named. It is called the Jonestown massacre, due to popular consensus that it was not suicide, since none of you wanted to die that day.
But the word "massacre" does not quite describe it. How many self-administered massacres could there have been? It is as if the loss of a term signifies something else missing–a gap in our comprehension–a black hole where reason, analysis, and contemplation are useless. There is no resolution, no vindication, only questions.
It has fallen to outsiders to tell your story. Fairy Norwood's daughter, Jynona, has come here to hold a service every year on this day, and will be here later this morning. Carolyn and Annie's sister, Rebecca, and her husband Fielding, have labored to archive and record everything, to get files from government agencies, to transcribe every tape, to link every photograph with a name. They have been tireless, and they solicit from us survivors our thoughts each year, to share with any who want to know you and who you were. A playwright, Leigh Fondakowski, created a play about you, that told your story in your own words, through letters you wrote to us. The poor playwright and her troupe didn't know what they were getting into. The project almost devoured them and left them broke, but the play was a modest success and was performed across the country.
Do you wonder what effect your deaths had in these years since?
"Drinking the Kool-Aid" has moved into the language as your most indelible contribution to date. It is shorthand for slavish obedience to anything to the point of one's own undoing and the detriment of others.
– Kathy [Tropp] Barbour
(Kathy [Tropp] Barbour joined Peoples Temple in 1970 with her companion, Richard Tropp, and was living in the San Francisco Temple on November 18, 1978. Her writings on this site can be found here.)
Originally posted on July 28th, 2013.
Last modified on October 29th, 2022.