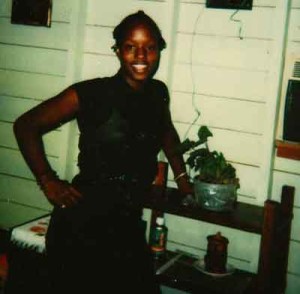 I write this on September 4, 2012, the birthday of my "Best Friend Forever."
Brenda Carol Cobb and I were inseparable. From Indianapolis to California to Jonestown, we were always together. Those who knew us could see we were "two peas in a pod," "thick as thieves," and whatever other pairing you could use to describe the friendship we shared. To me she was a "BFF" before the phrase became part of American slang.
"Precisely Indubitably"; "Indubitably Precisely"! Those who knew Brenda knew that was her catch phrase of choice.
I miss your beautiful smile, Brenda, that could light up any room. I miss the talks we shared about our future. I miss our bad days as well as our good days. I am saddened you were cheated out of experiencing the things you wanted to do.
I thank you for your spirit you gave me that I carry with me daily. I thank you for the opportunity to have known such a beautiful person.
I miss you so much my friend, my sister. Never will I ever experience a friendship as special and strong as ours. I Love You Forever, my "BFF," my Sister.
(Dawn Gardfrey is a regular contributor to the jonestown report. Her other articles in this edition are Surviving November: My Life After Jonestown Finds New Passion and New Branches on the Family Tree. Her previous writings for this site are collected here. She can be reached at dawn.gardfrey@gmail.com.)
Originally posted on July 28th, 2013.
Last modified on July 25th, 2018.