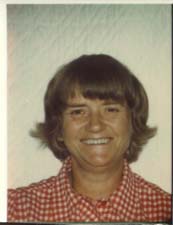 I met Rheaviana Beam soon after I joined Peoples Temple Christian Church in Redwood Valley, California. I had first come to Peoples Temple in early March 1970 just after I relocated from Connecticut to San Francisco to live with my sister. At first, I would visit the Temple on Sundays but then return to San Francisco later in the afternoon. After about two months, Jim Jones told me that I should move up to Redwood Valley, that it would be a good decision for me. I wrestled with the idea, but finally realized that the risky behavior which had persuaded me to leave the East Coast was now riskier than ever, and that it would be good for me to get out of "The City."
Arrangements were made for me to move in with Jack and Rheaviana Beam and their three children, Joyce, Jack Arnold, and Eleanor. Rheaviana ran a Family Care Home in Ukiah, about twelve miles south of rural Redwood Valley. At first she seemed to be the "straight man" to Jack's humor. He was riotous, and her comebacks could keep me entertained for hours. She worked night and day and had a wonderfully clean care home, with happy patients who were tenderly cared for.
Our first argument was over me making my bed. She insisted – as only Rheaviana could – that I make my own bed each and every day, and that I do it well. I explained to her that there was no point in making a bed in the morning if you were just going to get in it again that night. My argument didn't work, and she conscientiously taught me some basic housekeeping. Now that I'm a teacher, so I know all about "dramatic play" – when you dramatize a point so that it is understood. It isn't that chewing gum is a sign of moral decay – but in my class, my students do learn not to chew it. I dramatically clarify some of the points I really want the students to understand. The same was true with Rheaviana. Her responses to me were the epitome of this same dramatic play. Her faces were easily as bizarre as Lucille Ball in "I Love Lucy."
Rheaviana never stopped. She was literally in motion from the moment she got up until her head hit the pillow. She fed and cared for her patients in such a loving but firm way that they felt part of her family. The members of her family grew up with the same high standards. Everyone chipped in to do the work around the house. No one could be lazy around her. She put in the most effort and would permit nothing less than that from the rest of us.
She was like a mother to me, too, which meant, of course, that I was held to the same standards she had for her own kids. My own mother had been a single parent of three girls and had worked long hours. I got by with many bad habits, with poor housekeeping being only one! Rheaviana had already heard all the excuses. All she had to do was look at you with that incredulous, wide-eyed look to let know that you had to come up with something way better, or give it up and get to work.
Rheaviana came from the Midwest, where the work ethic is profoundly ingrained in many folks, and she never let up on her efforts to instill it me. She knew she could straighten me out. After I realized that there were no acceptable excuses, I stopped searching for them. She taught me a lot of wonderful skills. She taught me to eat day-old cornbread in a glass of milk with sugar, although she wasn't quite as successful in teaching me to make the cornbread itself. She taught me to put wet towels where they belonged. After awhile, it all became part of my routine.
One of my lasting impressions of Rheaviana was that she was not dainty, would be offended if anyone called her that, and absolutely stood by who she was. She knew that she was a hard-working, kick-ass kind of woman, and she never pretended to be anything else. That was important to me then. I was confused about who I was and who I wanted to be. I wanted to be sexy and modest at the same time; I wanted to be an activist and a hippie at the same time; I wanted to be committed to justice but still have the careless freedom to play around in risky settings. I didn't have a firm idea of what I wanted to be in a year or two. In that way, Rheaviana was my role model. She had the traditional family – husband, children, etc. – but she was so much more.
I was afraid I would grow up to be mono-dimensional and boring. I always said that I didn't want to spend time with people like me, because it would be too boring. In her own way, Rheaviana showed me the depth a person can have. She wasn't just one thing – but she was one thing at a time. She was a kaleidoscope of parts, and at any one moment, she was just who she wanted to be. But whatever that moment was, it was total: there was no nonsense, no bs, all passion. She'd give off many sparks. She'd take care of business. She'd take you on and love you, and get you right.
As I was thinking about Rheaviana recently, I realized she is one of those people I didn't appreciate enough when she was alive. After leaving the Beams' home, I moved into the communal structures I loved so much in the Temple. I didn't give her enough credit for helping me transition into adulthood. She was such a special, delightful, engaging person.
Rheaviana and her husband Jack and their daughter Eleanor died in Jonestown. Two of her children survived, Jack by having left a number of years earlier, and Joyce by being away from Jonestown that day on Temple business. I still mourn the loss of the three, and am grateful for the lives of everyone in the Beam family.
(Laura Johnston Kohl, who had lived in Jonestown but was working in Georgetown on 18 November, died on 19 November 2019 after a long battle with cancer. She was 72. Her writings for this website appear here.)
(The website for Laura's book Jonestown Survivor is here. It was reviewed by The WriteEdge Bookshelf, a project of the WordPress website for book aficionados (also available here). Her blog on her site includes a number of articles, including A Gathering of Peoples Temple Survivors, Grief, and Going Home Again.
(Laura was also interviewed for a podcast in November 2011 that appears here (scroll down to Baycast #2; program begins after 30 seconds of intro music).)
Originally posted on July 28th, 2013.
Last modified on December 28th, 2021.