• Former eight-term California Congressman Paul N. "Pete" McCloskey was awarded two Purple Hearts – among other service medals – for injuries he sustained during battle during the Korean War. In June 2012, he gave one of the Purple Hearts to U.S. Rep. Jackie Speier, who, as a young congressional aide to Rep. Leo Ryan, was severely wounded on the Port Kaituma airstrip in November 1978 during the attack that killed her boss. According to an article in The Los Angeles Times, McCloskey never understood why Speier did not receive public recognition for the sacrifice she made. "She earned it," McCloskey was quoted as saying. "She got hurt worse than I did."
The Times story was later picked up by UPI.
• Coverage of the 75th anniversary of the opening of the Golden Gate Bridge between San Francisco and Marin County included descriptions of the protests, special events and suicide attempts that have occurred on the 1.7 mile span. Among the items was that "On Memorial Day 1977, Peoples Temple leader Jim Jones delivered a speech to about 600 people at an anti-suicide rally at the bridge. Eighteen months later 900 of Jones' disciples died in a mass suicide at the remote Jonestown settlement in South America."
• In addition to these news articles, Jonestown and Peoples Temple is often mentioned in the mainstream media both as cultural icons and in serious considerations of religious and political issues.
News from Guyana
• Several news articles around the last anniversary of the Jonestown death focused on what the jungle community looks like now and what efforts are ongoing to transform it into a possible tourist destination. The articles included:
• Guyana: jungle tourism and Jonestown from the Canadian Broadcasting Company, 30 November 2011 (includes audio clip)
• Jonestown: Guyana considers massacre site's future, by Sarah Grainger, BBC, 18 November 2011
• An editorial in the Stabroek News in Georgetown, Guyana from 25 November 2011 puts the tragedy into the context of a Guyanese understanding.
Discussions of Jonestown
Spot a Sociopath: 10 Red Flags To Avoid Being Swept Under the Influence of a Charismatic Nut Job
by Mike Adams, OpEd News, 8 June 2012
http://www.opednews.com/articles/Spot-a-Sociopath-10-Red-F-by-Mike-Adams-120608-374.html
"The ultimate destination of a sociopath is to destroy himself and take as many willing victims with him as possible. This is the Jim Jones scenario: Drink the Kool-Aid laced with poison, and thereby prove your worth to your entire cult group.… And people loved him for it! They felt inspired, excited, healed and guided. Jim Jones was their savior, their prophet. They believed his every word, and they paid for their foolish belief with their lives.… Jones was a master at invoking spiritual concepts and presenting himself as spiritually evolved. This is another common theme among sociopaths, and you see it among Applewhite, Manson, Jones and even present-day sociopaths who are operating in America right now."
Is "Peoples Temple" Mainstreamed into American Society?
by Brad Ford, News In Faith News, 30 March 2012
"We remember San Francisco-based Peoples Temple for its horrendous mass suicide that claimed the lives of 918 people on November 18, 1978, at their 'Agricultural Project' in the jungles of Guyana. Like many cults, it was a blend of liberal politics and principles of Christianity that had been culled and repackaged to forge an unholy radicalism.… The Peoples Temple blending of races, leftist politics, and liberal Christianity has continued to evolve. It has shed the obvious clues that people today can quickly identify. The mask and guise has changed, made itself look more mainstream.… Hollywood and the advertising world has taken up the challenge to dress up Peoples Temple in ways that escape detection.  Television commercials and sit-comms tout the normalcy of rainbow, divorced, and same-sex families.… American society is still drinking the Kool Aid, however, unaware that their immersion in entertainment can be as blinding as it was for those who self-righteously sought the Peoples Temple social prescription."
Jonestown and Obama
by Eileen F. Toplansky, American Thinker, 25 March 2012
http://www.americanthinker.com/2012/03/jonestown_and_obama.html
"In the January 2012 Commentary article entitled 'The Left's Great Crime' by George Russell, the protagonist of the piece is described in the following manner:
"'He had a gift for charismatic preaching and took it to black neighborhoods …where he preached racial inclusion and gathered a mixed-race congregation.
"'… he already cut a considerable figure in radical circles for his message of apostolic, or divine, socialism-colorblind Communism wrapped in the transport of faith healing and racial inclusion.
"'The … show was a highly successful act among the homeless, dispossessed, lonely, and often idealistic core of lower-middle-class and street people who were drawn in large numbers.'…
"The man whom author George Russell is describing is Jim Jones, remembered for the Jonestown, Guyana mass suicide of Americans on November 18, 1978.
"Yet as I read this piece, there were certain chilling similarities to the 44th president of the United States that I could not shake off.  Certainly it was Obama's charisma, not his record that had people swooning before him.…
"Jim Jones' ministry committed suicide although it was clear that many had no idea what was truly going on, and a number of them actually resisted.  Is there a lesson in this horror?  Are far too many Americans still drinking the Kool-Aid and not seeing the obvious?  Will those 50% of Americans who remain deluded or in denial see how they are being used as dupes?  Will the rest of us be brought down by their delusional ignorance?"
9/11 pawn or Al-Qaeda Mum?
by Sophia Javed, Media Review Network, Gauteng, South Africa, 6 February 2012
http://www.compasscayman.com/observer/2011/03/20/Kool-Aid,-cults-and-hypocrisy/
"Both the Jonestown massacre and the 9/11 bombings were the biggest single non-natural calamities which have occurred against the American people. However the reaction to either of these events have been strikingly different. Both had religious elements, both were funded and supported by ordinary citizens and other nation states (for example the People's Temple relocated to Guyana with the help of the Guyana government) and both claimed innocent lives.
"Yet, the Christian doctrine capitalised upon by Jim Jones has been referred to as a warped theology, unknown to the Christian religion or its practitioners and was immediately denounced. But whilst Muslims are increasingly trying to educate non-Muslims as to the non-Islamic elements that present themselves in terrorism and the fact that Islam is indeed synonymous with justice, our efforts fall on deaf ears, blind eyes and dumb minds.
"Hence the War on Terror was launched after the 9/11 attacks."
Sex, Corruption, and the Kool-Aid Massacre
by Paul Krassner
http://www.huffingtonpost.com/paul-krassner/sex-corruption-and-the-ko_b_1099767.html
(also at http://theragblog.blogspot.com/2011/11/paul-krassner-sex-corruption-and-kool.html and http://www.counterpunch.org/2011/11/18/sex-corruption-and-the-kool-aid-massacre/ )
Bay Area journalist Paul Krassner reflects upon the tragedy on the 33rd anniversary.
When I Think of November
by Margaret Cho, Huffington Post, 17 November 2011
http://www.huffingtonpost.com/margaret-cho/when-i-think-of-november_b_1097458.html
Jonestown cited in political contexts
Time magazine's Joe Klein on GOP field: 'This is Jonestown'
The Daily Caller, 25 Feb 2012
http://dailycaller.com/2012/02/25/time-magazines-joe-klein-on-gop-field-this-is-jonestown/ – ixzz1nRQ3zBo7
On this weekend's "The Chris Matthews Show," Time magazine's Joe Klein likened what he saw during recent GOP presidential debates to the 1978 Jonestown Massacre, an event in which more than 900 people died after they were given a deadly concoction of "purple drink mixed with cyanide, sedatives and tranquilizers."
A conservative commentary on Klein's remarks is here.
Occupist dead-enders self-immolated – we got bored
by Terry Glavin, The Ottawa Citizen, 21 November 2011
As the viral phenomenon that always carries the prefix Occupy and rarely fails to advertise itself as a revolutionary movement descends into self-immolation by way of self-fulfilling prophecy – see the violence inherent in the system! – the only contentions that remain involve what it was, exactly, and what, if anything, might arise from its ashes.
The article then goes on to compare the leaders of the Occupy movement to "born-again Stalinist demagogue Jim Jones" and describes the movement itself as "descending into merely a Jonestown of the Imbecilities."
Other news articles
'Death' to Penn State football?
by Eldon L. Ham, Philly.com, November 16, 2011
http://articles.philly.com/2011-11-16/news/30405973_1_penn-state-football-joe-paterno-college-football
"An instance of great veneration of a person, ideal, or thing, especially as manifested by a body of admirers." That definition of cult applies to sects ranging from the Branch Davidians to Jonestown and now, it appears, Penn State college football.
Jonestown in religion references
How We Became Obsessed With Cults
by Philip Jenkins, Wall Street Journal, 6 September 2012
http://online.wsj.com/article/SB10000872396390443686004577634230036422926.html
Since the Rev. Sun Myung Moon died this week, obituaries have described a megalomaniacal tax-evader. … It's not easy, then, to recall a time when Rev. Moon was feared by much of the public. For a few years in the late 1970s, Moon was the most notorious public face of a cult scare. … The Jonestown massacre of 1978 (a mass suicide instigated by Jim Jones, leader of the People's Temple cult) suggested that this total obedience might extend to real violence. When then-Sen. Bob Dole chaired a joint congressional session on "the Cult Phenomenon" in 1979, a parade of witnesses presented the problem in sensational terms. One described cults as "one of the most dangerous threats in the history of this country." … Certainly some religious sects did serious harm. Some engaged in horrific acts—mass violence (the Jonestown massacre) in the case of the People's Temple, well-documented sexual abuse for the Children of God. The Moon organization, too, was involved in some misdeeds such as tax-evasion (for which Moon went to prison).
"The earth has reached the last days"
by Peter Nyoni, end-times-prophecy, 14 February 2012
Peoples Temple, its false prophet in the form of Jim Jones, and its tragic end – among many other examples – are all seen as harbingers of the end of the world, in this apocalyptic perspective.
What are they plotting? Mysterious stadium at Warren Jeffs' Church compound sparks fears that paedophile Mormon's followers are planning 'Jim Jones-style' mass suicide
by Daily Mail, 11 Feb 2012
http://www.dailymail.co.uk/news/article-2099649/Warren-Jeffs-stadium-Is-Latter-Day-Saints-leader-planning-Jim-Jones-style-mass-suicide.html
"Photos of a stadium being built on the site of the Fundamentalist Church of Jesus Christ of Latter-day Saints – led by convicted paedophile Warren Jeffs – have emerged, raising concerns about its purpose. The pictures, taken by a local resident in Eldorado, Texas, have sparked fears that the concrete building could be used for a mass suicide, like that led by Jim Jones of the Peoples Temple in 1978."
The article includes a video from KSL television in Salt Lake City.
Other articles anticipating whether Warren Jeffs' plans will include a Jim Jones-Jonestown "doomsday" scenario include a February 10 article in Time Magazine.
Defining Christianity downward
by Tom Flannery, East Texas Review, 30 Jan 2012
"[Jim Jones] twisted [a Bible verse] to say that script in the original language meant Scripture and that Jesus was telling His followers to discard God's Word. The minister taught that his followers should therefore burn their Bibles and listen only to him for divine instruction."
The article continues with how the media includes "Christian" in the description of other men – David Koresh, Tim McVeigh, the Columbine shooters – who commit violent acts when they are not. "Maybe our media elites just don't understand the basic tenets of Christianity," the article concludes. "Or is there something else going on here?"
Scientology's Kool-Aid Deaths
by David Edgar Love, 13 January 2012
http://narcononcanada.com/2012/01/13/scientologys-kool-aid-deaths/
This entry to the anti-Scientology site opens with its call-out: "It is unlikely to see Scientology invoke a Jonestown scenario – however, is the psychological rape and destruction of a once healthy mind, perhaps all the more devastating and torturous?"
Is the end really nigh?
by Kevin Spurgaitis , The United Church Observer (Toronto, Canada), December 2011
http://www.ucobserver.org/faith/2011/12/doomsday/
From the scaremongers of the Middle Ages to the gloom-and-doom merchants on the eve of the new millennium, humanity has long been prone to the-end-is-nigh hysteria. The latest cause for concern: a doomsday prediction that cataclysmic events will happen on Dec. 21, 2012.… The 20th century saw its share of frenzied roosters. In 1978, Peoples Temple founder Jim Jones led over 900 followers to mass suicide in Guyana, anticipating global annihilation through a nuclear apocalypse.
Amish Beard-Cutting Mob Comes From Alleged Cult
by Jillian Rayfield, Talking Points Memo, November 3, 2011
http://tpmmuckraker.talkingpointsmemo.com/2011/11/amish_beard-cutting_mob_comes_from_alleged_cult.php
The strange case of the Amish haircutting mob just got a little bit stranger, with allegations that the alleged haircutters are from an Amish clan that is also a cult. "If I were to get a call right now telling me, 'Sheriff, they're all dead in the community out there,' it wouldn't surprise me," [Sheriff Fred J.] Abdalla said. "That's the power and control that he has over those people, because if he were to tell them right now to drink this poison Kool-Aid, they would do it."
Amish cult community may commit mass suicide, former member warns
by John Thomas Didymus, Digital Journal, 24 Oct 2011
A former member of the Amish Bergholz Clan is warning that if something is not done in time the Amish community in Bergholz may end up like Jim Jones' Peoples Temple which committed mass suicide in Jonestown Guyana, 1978.
Related stories:
Inside the world of the Amish 'beard cutters'
by Rachel Quigley, Daily Mail, 21 October 2011
http://www.dailymail.co.uk/news/article-2052020/Amish-bishop-cult-leader-Sam-Mullet-rules-community-iron-fist-harsh-punishments.html#ixzz1nifyAlbb

Former Amish sect member compares Bergholz Clan to Peoples Temple cult
ReligionNewsBlog.com, October 13, 2011
http://www.religionnewsblog.com/26232/former-amish-sect-member-speaks-about-attacks
Mormonism Debate: What Is a Cult?
by Napp Nazworth , The Christian Post , October 12, 2011
http://www.christianpost.com/news/mormonism-debate-what-is-a-cult-57979/
Southern Baptist pastor Robert Jeffress made some controversial remarks over the weekend when he described the Church of Jesus Christ of Latter-day Saints as a "cult." The Southern Baptist understanding of the word "cult" is different than popularly held notions, which confused the debate.… When most of the public hears the word "cult," they think of small, closed religious sects led by a charismatic leader with devout followers, such as the Branch Davidians or Jim Jones' Peoples Temple. "Cult" can also be used in a milder sense to refer to passionate followers of a celebrity. Singer Justin Bieber, for instance, might be described as having a "cult following."
Related stories:
On Romney, Cults and Conservative Rhetoric
by Rev. Charles St. Onge, Chron.com, 12 October 2011
Last week a fellow HoustonBelief blogger and I had lunch and talked about areas of the world in which we'd lived and served. Both of us lived in countries where people questioned whether the Lutheran "brand" was a "cult;" he in New Zealand and myself in Quebec. We've become very free as a people with our language, often using words for their shock value more than for conveying meaning or furthering understanding. Certainly the word "cult" is one of those words that is demagogically useful but rhetorically unhelpful.… Even I was surprised to see Merriam-Webster define a cult as nothing more than a "system of religious beliefs and rituals" or "a religion regarded as unorthodox or spurious." Somehow I don't think that's the definition that most people carry in their mind. In a word association game I would suspect that "cult" and names like "David Koresh" and "Jim Jones" would go together almost automatically. "Cult" and "Kool-Aid" seem a better match than "cult" and "unorthodox belief system."

Robert Jeffress: Mormonism Is A Cult, But A 'Theological Cult'
by Luke Johnson, The Huffington Post, 10 October 2011
http://www.huffingtonpost.com/2011/10/10/robert-jeffress-mormonism-_n_1004093.html
Rev. Robert Jeffress, who introduced Texas Gov. Rick Perry at the Values Voters Summit last Friday, reiterated that he views Mormonism, the faith of Republican presidential frontrunner Mitt Romney, as a "cult" on Monday's edition of "Hardball With Chris Matthews" on MSNBC.
Jeffress didn't back down from the eyebrow-raising suggestion and sought to clarify his remarks. He signaled he sees Mormonism as a "theological cult," rather than a "sociological cult," like the group led by Jim Jones, who founded the Peoples Temple. The Baptist pastor added that he believes that Mormons are not Christians.
(includes video)
Jonestown in cultural references
Review: Sound of My Voice
by Brad Keefe, Columbus Alive, 24 May 2012
https://www.columbusalive.com/story/entertainment/movies/2012/05/24/movie-review-sound-my-voice/23018135007/
What do you think of when you hear the word "cult"? The Manson Family? Jonestown? Heaven's Gate? The Branch Davidians? Whenever a cult makes headlines, we collectively wring our hands and wonder how so many people could fall mindlessly under the sway of a charismatic leader. The low-budget suspense thriller Sound of My Voice examines this concept to unnerving effect. It's a creepy, smart and ultimately challenging.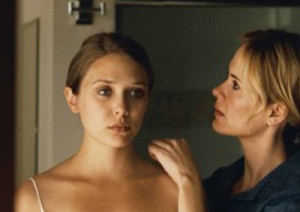 Review: Martha Marcy May Marlene
by Kevin Kaber, UWM Post, p. 11 (Milwaukee, Wisconsin), 14 November 2011
Martha Marcy May Marlene is a quiet, slow movie that increasingly outdoes itself with each sobering sequence of events. A dramatic thriller, or even a horror of sorts, the film has an uncanny ability to cause worry and jaw drops from its audience. Most of its subject matter is something that might be heard from Jonestown or the Yearning for Zion Ranch.
Haunted House: A Review of Martha Marcy May Marlene
by Justine Ashley, Celebrity Dirty Laundry, October 27, 2011
http://www.celebdirtylaundry.com/2011/haunted-house-a-review-of-martha-marcy-may-marlene-1027/
To say that 'Martha Marcy May Marlene' is a edge of your seat thriller would be an understatement. Eerily subtle, the film cannot compare to gruesome horror films because it illustrates something much worse. The narrative titers on the reality and nightmare which Martha (Elizabeth Olsen) can barely distinguish between.… The depiction of the psychological torment that Martha (who's name is changed to Marcy May) endures, though 'Black Swan-esque', is incomparably genuine. She is convinced that the gang is coming for her. She even pees herself after hearing pinecones fall onto roof. The film conjures thoughts of notorious cases such as Jonestown, the kidnapping of Patty Hearst, and the Manson family. What has baffled most about these cult incidents is how mind manipulation coerced a group of people to commit horrific crimes. The offers a window into this ritualistic process.
Originally posted on July 28th, 2013.
Last modified on December 26th, 2022.